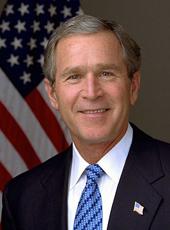 Fact Sheet: President Bush Signs Healthy Forests Restoration Act Into Law
Today's Presidential Action
President Bush today signed into law the Healthy Forests Restoration Act of 2003 to reduce the threat of destructive wildfires while upholding environmental standards and encouraging early public input during review and planning processes. The legislation is based on sound science and helps further the President's Healthy Forests Initiative pledge to care for America's forests and rangelands, reduce the risk of catastrophic fire to communities, help save the lives of firefighters and citizens, and protect threatened and endangered species.
The Healthy Forests Restoration Act:

Strengthens public participation in developing high priority forest health projects;
Reduces the complexity of environmental analysis allowing federal land agencies to use the best science available to actively manage land under their protection;
Provides a more effective appeals process encouraging early public participation in project planning; and
Issues clear guidance for court action against forest health projects.

The Administration and a bipartisan majority in Congress supported the legislation and are joined by a variety of environmental conservation groups.
The Need for Common-Sense Forest Legislation
Catastrophic fires, particularly those experienced in California, Arizona, Colorado, Montana and Oregon over the past two years, burn hotter and faster than most ordinary fires.
Visibility and air quality are reduced, threatening even the health of many who do not live near the fires.
The habitat for endangered species and other wildlife is destroyed.
Federal forests and rangelands also face threats from the spread of invasive species and insect attacks.
In the past two years alone, 147,049 fires burned nearly 11 million acres

2002: 88,458 fires burned roughly 7 million acres and caused the deaths of 23 firefighters;
2003 (thus far): 59,149 fires have burned 3.8 million acres and caused the deaths of 28 firefighters.
Nearly 6,800 structures have been destroyed in 2003 (approximately 4,800 in California).
The California fires alone cost $250 million to contain and 22 civilians have died as a result.
Bush Administration Actions to Promote Healthy Forests
In August 2002, in the midst of one of the worst fire seasons in recent history, the President launched his Healthy Forests Initiative (HFI). HFI focuses on reducing the risk of catastrophic fire by thinning dense undergrowth and brush in priority locations that are on a collaborative basis with selected Federal, state, tribal, and local officials and communities. The initiative also provides for more timely responses to disease and insect infestations that threaten to devastate forests. Using the President's Healthy Forests Initiative, the Bush Administration has taken steps to establish a more effective and timely process to protect communities, wildlife habitats, and municipal watersheds from catastrophic fires.
The Forest Service has implemented at least 46 high priority thinning and restoration projects using new procedures established under the National Environmental Policy Act (NEPA). The Bureau of Land Management is currently implementing more than 20 projects.
The Departments of Agriculture and the Interior have improved environmental assessments (EAs) for priority forest health projects.
The Forest Service and Bureau of Land Management have approved stewardship contracts using the new authority requested by the President and provided by Congress. Stewardship contracting will increase as NEPA work is completed in 2004. These contracts are a tool to restore landscapes, reduce hazardous fuel loads, and restore water quality and wildlife habitat.
The Healthy Forests Restoration Act of 2003 will:
Reduce dense undergrowth that fuels catastrophic fires through thinning and prescribed burns;
Improve the public involvement in the review process by providing opportunities for earlier participation, thus accomplishing projects in a more timely fashion;
Select projects on a collaborative basis involving local, tribal, state, Federal and non-governmental entities;
Focus projects on Federal lands that meet strict criteria for risk of wildfire damage to communities, water supply systems and the environment;
Authorize the Healthy Forests Reserve Program, to protect, restore and enhance degraded forest ecosystems on private lands to promote the recovery of threatened and endangered species;
Encourage biomass energy production through grants and assistance to local communities creating market incentives for removal of otherwise valueless forest material; and
Develop an accelerated program on certain Federal lands to combat insect infestations.
George W. Bush, Fact Sheet: President Bush Signs Healthy Forests Restoration Act Into Law Online by Gerhard Peters and John T. Woolley, The American Presidency Project https://www.presidency.ucsb.edu/node/280008