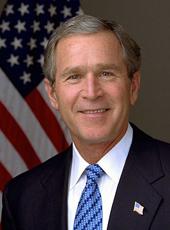 Fact Sheet: President Bush Calls on the Senate to Address the Vacancy Crisis in the Federal Courts
TODAY'S PRESIDENTIAL ACTION
President Bush commemorated Law Day by talking about the important role that the federal judiciary plays in protecting our rights and preserving our values. President Bush highlighted the vacancy crisis that is currently facing the federal judiciary, and called on the Senate to hold prompt hearings and votes on all his 100 judicial nominees.
BACKGROUND ON TODAY'S PRESIDENTIAL ACTION
In the late 1950s, the American Bar Association instituted Law Day, and President Dwight D. Eisenhower established Law Day by proclamation in 1958. Law Day draws attention to the principles and practice of law and justice. It provides an opportunity for Americans to reflect on our legal heritage, on the role of law, and on the rights and duties that are the foundation of peace and prosperity.
The Federal Judiciary is currently facing a vacancy crisis that the Chief Justice of the United States, William Rehnquist, recently warned is "alarming."
More than 10% of federal judgeships are presently vacant.
The vacancy crisis is particularly severe in the 12 regional Circuit Courts of Appeals where nearly 20% of the seats are vacant. In many cases, these are the federal courts of last resort.
The Sixth Circuit Court of Appeals, which covers Ohio, Kentucky, Michigan and Tennessee is currently half empty with only 8 of 16 seats occupied. The D.C. Circuit, which often handles some of the most important federal cases, is currently one-third empty with only 8 of 12 seats occupied.
Judges help ensure that the innocent remain free and the guilty are punished. Judges make decisions that help safeguard the stability of the marketplace and address the grievances of those who have been wronged. Because of the number of vacancies in our Nation's courts, Americans are being forced to wait for justice, and the burden on sitting federal judges is growing heavier.
President Bush has addressed the vacancy crisis by nominating 100 individuals to serve as federal judges. The first 11 of these nominees were submitted to the Senate almost one year ago on May 9, 2001.
The President's nominees are men and women of distinction and accomplishment. They are solidly within the mainstream of American legal opinion, and they share a principled commitment to follow the law, not legislate from the bench.
All pending nominees thus far have received either a well-qualified or qualified rating from the American Bar Association, which Senate Democrats have termed the "Gold Standard."
The Senate has failed to do its part to address the vacancy crisis.
The Senate has confirmed only about half of the President's nominees, and only 9 of the President's 30 circuit court nominees.
Of the President's first 11 nominees, submitted to the Senate on May 9, 2001, only three have even received hearings by the Senate Judiciary Committee.
George W. Bush, Fact Sheet: President Bush Calls on the Senate to Address the Vacancy Crisis in the Federal Courts Online by Gerhard Peters and John T. Woolley, The American Presidency Project https://www.presidency.ucsb.edu/node/280121