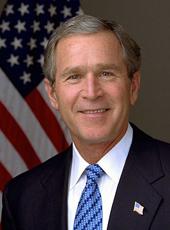 Fact Sheet: President Bush Acts on Helping Unemployed Americans
Today's Presidential Action
President Bush proposes to give states $3.6 billion to promote Personal Reemployment Accounts to Americans who need the most help getting back to work.
These funds will enable states to offer accounts of up to $3000 each to eligible individuals to purchase job training and key services, such as child care and transportation, to help them look for a job and get back to work quickly. Recipients will be able to keep the balance of the account as a cash reemployment bonus if they become reemployed within 13 weeks.
Personal Reemployment Accounts are a flexible new approach to giving the unemployed more control over their access to training and services and help them make a quick return to work. States will have considerable flexibility in designing the account program.
President Bush's new program will allow states to serve at least 1.2 million Americans most in need of help getting back to work.
The Concept
As part of the existing unemployment benefit proposal, all states identify individuals likely to exhaust unemployment benefits before becoming reemployed. States use factors such as prior employment in a declining industry, education level, and length of recent job tenure.
States will have the option of offering personal reemployment accounts to the following groups of unemployed workers:
New or existing unemployment beneficiaries who are identified as "somewhat to very likely to exhaust" unemployment benefits, and

Former UI claimants who have exhausted all their unemployment benefits within the three months prior to the effective date of the enactment of the program, and who meet one of the following criteria: (1) they are successfully in training and need extra support to complete training; or (2) they have worked in industries or occupations that are declining or no longer functioning in the local labor market (within the past 2 years). States will have the option of choosing additional targeting criteria.
States will be able to target this flexible new benefit to those individuals most in need of help getting back to work by offering Personal Reemployment Accounts of up to $3000, based on the specific conditions in each state.
The accounts will give eligible unemployed workers the power to purchase training, supportive services (e.g. child care, transportation), and intensive services (e.g., employment counseling, case management). The accounts will be administered through the One Stop Career Center system and individuals will be given broad flexibility to purchase the services of their choosing, within broad limits to prevent abuse.
In addition, states will have the option to allow eligible individuals who have exhausted all unemployment benefits to use account funds as income support, similar to unemployment benefits, until they become reemployed.
If an account holder becomes reemployed within 13 weeks, he or she will be able to keep the remaining balance of the account as a reemployment bonus. For new unemployment benefit recipients, the 13 week period begins to run when they begin to receive UI. For individuals who are already receiving unemployment benefits or have exhausted unemployment benefits, the 13 week period begins to run when they become eligible for the account. To encourage workers to stay on the job longer, the remaining balance will be paid in two installments (60% at employment and 40% after 6 months job retention).
Benefits of Reemployment Accounts
Because account recipients can keep the balance of their accounts when they become reemployed quickly and stay employed, they create an incentive to get off unemployment benefits and back to work more quickly. The more quickly a job is obtained, the larger the reemployment bonus will be.
The reemployment bonus also makes it easier for individuals to afford to make the transition to a new, more vibrant industry.
Reemployment accounts also make it easier for individuals to take advantage of training and services to help them get back to work and give them more flexibility and personal choice of their services.
The more quickly a job is attained, the shorter the period of unemployment benefit payments.
George W. Bush, Fact Sheet: President Bush Acts on Helping Unemployed Americans Online by Gerhard Peters and John T. Woolley, The American Presidency Project https://www.presidency.ucsb.edu/node/280339