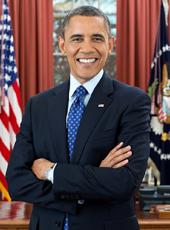 Fact Sheet: Preserving and Protecting Oceans and America's Waterways for Future Generations
President Obama is committed to protecting the ocean and its marine ecosystems. The Administration has launched landmark initiatives and policies to protect and preserve some of our country's most special places and introduce a new generation of Americans to our national lands and waters.
Today, in a video message to the "Our Ocean" conference participants in Chile, President Obama will announce that the Administration is taking the next steps to create two new marine sanctuaries – one in the tidal waters of Maryland, and one in Wisconsin's Lake Michigan waters. He will also announce new steps to tackle illegal fishing. During the closing of the conference, the State Department will announce additional steps and commitments from the United States and other governments and partners from around the world to protect our oceans.
Across the country, Americans depend on the ocean for food, jobs, and recreation. However, our ocean and marine ecosystems are increasingly threatened. Climate change is causing sea levels and ocean temperatures to rise. Changing temperatures harm coral reefs and force certain species to migrate. In addition, carbon pollution is being absorbed by the oceans, causing them to acidify, which damages coastal shellfish beds and reefs, altering entire marine ecosystems. Currently, the rate of acidification of our oceans is increasing 10 to 100 times faster than any time in the past 55 million years.
This week, Chile is hosting the second "Our Ocean" conference to bring the nations of the world together to address these challenges. The U.S. State Department hosted the first version of the conference in 2014 pledging to promote sustainable fisheries, reduce marine pollution, and stem ocean acidification.
Today's action builds on other steps the President has taken to protect important marine areas, including designating the Bristol Bay area of Alaska as off-limits to future oil and gas leasing. Last year, President Obama signed a proclamation to expand the Pacific Remote Islands Marine National Monument, creating the world's largest marine reserve off-limits to commercial extraction and protecting one of the most pristine tropical marine environments in the world. As the President said in his video address today, he will look for opportunities to protect even more of our waters in the months ahead.

Taking Steps to Conserve America's Special and Unique Places
Today the President will announce that the National Oceanic and Atmospheric Administration (NOAA) is moving forward to designate the first new National Marine Sanctuaries since 2000, one in Maryland and the other in the Great Lakes.

Wisconsin's Lake Michigan. In Wisconsin, an 875-square mile area of Lake Michigan, with waters extending from Port Washington to Two Rivers was nominated by the Governor for sanctuary protection, and the nomination was endorsed by a diverse coalition of organizations and individuals at local, state, regional and national levels including elected officials, businesses, environmental, recreation, conservation, fishing and tourism groups, museums, historical societies and education groups. The area contains a collection of 39 known shipwrecks, 15 of which are listed on the National Register of Historic Places. Fifteen of the known shipwrecks are essentially intact, and three vessels possess standing masts - a rarity in the Great Lakes.
Mallows Bay-Potomac River. Mallows Bay-Potomac River in Maryland is a 14-square mile area of the tidal Potomac River, adjacent to Charles County. Nearly 200 vessels spanning from the Revolutionary War through the present are found in the area, including the remains of the largest "Ghost Fleet" of World War I wooden steamships built for the U.S. Emergency Fleet, which are listed on the National Register of Historic Places. Mallows Bay is largely undeveloped and has been identified as one of the most ecologically valuable in Maryland providing important habitat for fish and wildlife, including rare, threatened, and endangered species. Mallows Bay-Potomac River was nominated by the former Governor of Maryland in September 2014, and the nomination was endorsed by a diverse coalition of local, state, regional and national groups.
Last year, the Administration gave Americans the opportunity to nominate nationally significant marine and Great Lakes areas as national marine sanctuaries for the first time in 20 years. Since NOAA re-opened the public nomination process, seven submissions have been put forward by communities interested in protecting significant marine areas. Many of these nominations have included hundreds of support letters from a wide variety of stakeholders. The proposed sanctuary sites will be open for public comment now through January 15, 2016.

New Tools to Combat Illegal Fishing
More than 2.5 billion people worldwide depend on fish for food and nutrition. In the U.S. alone, Americans consumed 4.6 billion pounds of seafood in 2013. The U.S., working with communities, fishermen, conservation groups, and others has made enormous progress in responsibly managing fisheries and ensuring they will continue to be productive for years to come. The U.S. is a global leader in sustainable fishing and is announcing several steps to help combat illegal fishing across the world.

Sea Scout Launch. Today, Secretary of State John Kerry announced that the Administration is launching Sea Scout, a new global initiative that will unite governments and stakeholders worldwide in the fight against illegal, unreported, and unregulated (IUU) fishing by focusing global assets and partnerships on identifying, interdicting, and prosecuting IUU fishing organizations and networks around the world. Sea Scout will strengthen at-sea fisheries enforcement through integration of existing and emerging technologies, expanded use of internet-based tools, enhanced coordination and information sharing, and capacity building. Sea Scout will improve the efficiency and effectiveness of at-sea enforcement through the identification of regional "hot spots" – where IUU fishing is known to be most severe or to pose the most significant threat – to ensure that at-sea enforcement assets are directed and deployed in the most efficient manner.
New Tools to Target Illegal Fishing. NOAA is also announcing new steps to provide data, tools, and technical assistance to target illegal fishing. This includes the further development and availability of an application to assist in detecting ocean-going vessels using the Visible Infrared Imaging Radiometer Suite (VIIRS) a space-based sensor. VIIRS is capable of detecting lights, including from boats that use lights to attract fishery catch at night, in order to target potentially illegal activities for further inspection by other assets. In 2016, the detection system and alert services will be implemented in Indonesia, the Philippines, and three other countries. In the following years, future partnerships will build capacity in other countries—bringing online another tool in our data product toolbox to help increase global marine domain awareness.
Combatting IUU Fishing and Seafood Fraud. Earlier this year, NOAA and the State Department unveiled the final action plan of the President's Task Force on Combating IUU Fishing and Seafood Fraud. The plan lays out aggressive next steps for implementing the recommendations issued by the Task Force in December 2014, and includes measures to create and expand domestic partnerships to detect illegal fishing and seafood fraud, strengthen enforcement, and develop a traceability program to track seafood from harvest to entry into U.S. commerce, beginning with the species most at risk for trafficking or fraud. The plan also outlines how the U.S. will work with international partners to address IUU fishing and seafood fraud, including through the Administration's work to secure historic and enforceable environmental provisions in the Trans-Pacific Partnership.
Barack Obama, Fact Sheet: Preserving and Protecting Oceans and America's Waterways for Future Generations Online by Gerhard Peters and John T. Woolley, The American Presidency Project https://www.presidency.ucsb.edu/node/323233