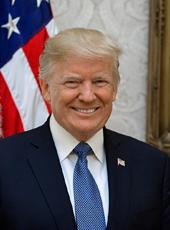 Fact Sheet - An Overwhelming Surge in Illegal Immigration is Worsening the Crisis at the Border
"The current situation at the southern border presents a border security and humanitarian crisis that threatens core national security interests and constitutes a national emergency." --President Donald J. Trump
OVERWHELMING SURGE AT THE BORDER: President Donald J. Trump has warned repeatedly that our border is being overwhelmed and, as the numbers show, that is exactly what is happening.
United States Customs and Border Protection (CBP) engaged in more than 100,000 border enforcement actions in March – the most for one month in more than a decade.

Total enforcement actions were 516 percent higher than in March 2017.

Border Patrol apprehensions for this fiscal year, through March, have exceeded the entire fiscal year totals for 2017, 2015, 2012, and 2011.

Border Patrol apprehensions increased 38 percent from February to March.

An unsustainable number of alien families and children are arriving at the border; these migrants cannot be promptly removed and require extensive care and resources.

Sixty-four percent of all border enforcement actions in March were directed to unaccompanied alien children and family units.

More than 75,000 migrants were apprehended or deemed inadmissible at the border in February, a disturbing upward trend from monthly totals late last year.
The overwhelming surge of migrants has created a system-wide meltdown as resources and personnel at the border are being stretched completely beyond their capacity.
LEADING AN EMERGENCY RESPONSE: President Trump is doing everything within his lawful authority to secure our border and address this growing crisis.
President Trump has deployed troops to assist with the situation at the border and is fulfilling his promise to build the wall.
The Department of Homeland Security has reassigned CBP officers from ports of entry to assist with the response.
The Secretary of Homeland Security has directed immigration agencies to return the maximum possible number of aliens each day to Mexico to await immigration proceedings.
Hundreds of aliens can now wait in Mexico while their immigration cases are adjudicated.
The Administration secured the first-ever agreement with Northern Triangle countries to help stop caravans from flooding across our border and to combat human smuggling and trafficking.
THE BROKEN SYSTEM DRIVING THIS CRISIS: Congress must act immediately to fix the broken immigration system and address the root causes of the crisis at our border.
The broken immigration system is driving more and more unaccompanied alien children and families to make the dangerous trek to our border.
In the past, illegal immigration across our southern border was primarily committed by single adult males from Mexico who could be quickly removed, but now most are families and minors from Central America.
Currently, we cannot promptly return unaccompanied alien children who arrive at our border from countries other than Mexico and Canada.
The Flores settlement agreement and subsequent court rulings have effectively forced the Government to release aliens traveling with a minor after approximately 20 days.
Our asylum laws need to be tightened in order to prevent rampant abuse of the system while protecting legitimate asylum seekers.
Donald J. Trump, Fact Sheet - An Overwhelming Surge in Illegal Immigration is Worsening the Crisis at the Border Online by Gerhard Peters and John T. Woolley, The American Presidency Project https://www.presidency.ucsb.edu/node/334847