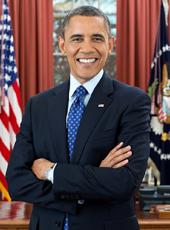 Fact Sheet: Obama Administration Announces More Than $4 Billion in Private Sector Commitments and Executive Actions to Scale up Investment in Clean Energy Innovation
Taking Action to Cut Carbon Pollution and Grow the Economy through the Administration's Clean Energy Investment Initiative While Doubling Initial Goal of $2 Billion
President Obama and his Administration are committed to using every tool possible to combat climate change. While the President has taken several steps using the power of the federal government, harnessing the ingenuity of America's entrepreneurs, innovators, and technology is a crucial part of the fight against climate change. America is leading the global transition to a low-carbon economy, and thanks to past investments, consumers are already benefitting from major advances in solar photovoltaics, wind power, advanced batteries, energy-efficient lighting, and fuel cells. In fact, the cost of solar energy systems has plummeted by over 50 percent in the past five years alone.
America's world-class researchers and entrepreneurs are developing the next breakthrough technologies that will transform how we generate, store, and consume energy. We need to continue to invest in innovation to reduce carbon pollution while growing the economy—and creating entirely new industries here in America.
As part of that effort, today, the White House is hosting a Clean Energy Investment Summit where Vice President Joe Biden will deliver remarks highlighting more than $4 billion of independent commitments by major foundations, institutional investors, and other long-term investors to fund climate change solutions, including innovative technologies with breakthrough potential to reduce carbon pollution. These commitments—from hundreds of organizations as diverse as the University of California, Goldman Sachs, and the Sierra Club Foundation—surpass the Administration's initial Clean Energy Investment Initiative goal of catalyzing $2 billion, first announced by Senior Advisor Brian Deese as a call to action earlier this year. In addition to Vice President Biden's remarks, today's Summit will feature senior administration officials from the White House, the Department of Energy, and the Department of Defense; and thought leaders from the Beeck Center for Social Impact and Innovation at Georgetown University, the Wallace Global Fund, and Wells Fargo among others.
Additionally, the White House is announcing a series of executive actions to encourage private-sector investments in clean energy innovation, including:

§ Launching a new Clean Energy Impact Investment Center at the U.S. Department of Energy (DOE) to make information about energy and climate programs DOE and other government agencies accessible and more understandable to the public, including to mission-driven investors;

§ Facilitating investments by charitable foundations in clean energy technologies, through new Treasury Department guidance on impact investing; and

§ Improving financing options from the U.S. Small Business Administration for private investment funds seeking long-term capital, including early-stage investors in capital-intensive clean energy technologies.
Long-term investors—such as foundations, family office investors, and institutional investors—can play a catalytic role in accelerating the transition to a low-carbon economy. Philanthropists can help fund clean energy innovation at the earliest stages, where bold new ideas are emerging from our labs, universities, and startups, while investors can scale up the most promising of these innovations. Taken together, today's announcements will help ensure that more climate innovations make the leap out of the laboratory and into the global marketplace.
EXECUTIVE ACTIONS TO UNLOCK CAPITAL FOR CLEAN ENERGY INNOVATION
Today, the White House is announcing a series of executive actions that will encourage private-sector investment in clean energy innovation by reducing transaction costs, clarifying relevant investment rules, improving financing options, and providing greater transparency about Federal funding of clean energy research and development programs.
Launching a Clean Energy Impact Investment Center: The U.S. Department of Energy (DOE) will establish a new Clean Energy Impact Investment Center. Through dedicated, accessible internet and staff resources, the center will make information about DOE programs accessible and more understandable to the public, including to mission-driven investors. The center may also provide connections to points of contact and subject matter experts within relevant DOE programs. Additional roles of the center will include: sharing research and analysis produced by DOE and its National Laboratories on relevant developments in clean energy technology; offering a mechanism for identifying the need for new technology analysis from DOE; and aggregating and making available existing, public information on entities currently engaged in partnerships with DOE, as well as information about energy and climate programs at other government agencies. For more details and updates, click here.
Facilitating Impact Investments by Charitable Foundations: The Treasury Department is committed to taking two actions relevant to charitable foundations investing in clean energy technologies and other potentially mission-aligned sectors in the coming months. First, Treasury plans to publish new guidance to clarify that foundations are permitted to make certain "mission-related" investments (MRIs) in companies that further the foundation's charitable purposes. MRIs typically are foundation investments of endowment dollars in for-profit companies, consistent with both the foundation's charitable purpose and fiduciary duties. Some long-term investments in climate solutions, including clean energy technologies that can yield market returns after a relatively long period of illiquidity, may be attractive MRIs for foundations seeking to reduce carbon emissions or prevent climate change. Second, Treasury plans to finalize rules establishing new examples of permissible program-related investments (PRIs) by foundations—including examples demonstrating various types of investments in for-profit companies to combat environmental deterioration. A PRI typically is a foundation investment of philanthropic dollars in a for-profit company whose primary purpose is to advance the foundation's charitable purpose, not to achieve market-rate returns.
Expanding Access to Capital for Innovative Clean Energy Technology Companies: The U.S. Small Business Administration (SBA) is focused on improving and strengthening financing options for private funds that invest in clean energy technology companies and other early-stage, innovation-driven small businesses. The Early Stage Small Business Investment Company (SBIC) program allows privately managed funds to provide more long-term capital to high-growth firms, with no new cost to taxpayers. SBA is committed to aligning this program more closely with the time horizons of early-stage investors in capital-intensive technologies. These stakeholder-driven improvements may include, and are not limited to, licensing new funds on a continuously rolling basis, improved marketing and customer service, and extending this program past 2016.
Increasing Transparency of Federal Funding for Clean Energy Innovation: The Office of Management and Budget (OMB) is releasing a new overview of the $7.6 billion in the FY 2016 President's Budget for clean energy research, development, demonstration, and deployment (RDD&D), which will provide detail for the first time on specific technology areas within this government-wide investment. Read the overview HERE.
PRIVATE SECTOR COMMITMENTS TO INVEST IN CLEAN ENERGY INNOVATION
Today, major foundations, institutional investors, and many other long-term investors are announcing more than $4 billion in commitments to finance clean energy innovation and climate change solutions, including:
Building New Investor Collaborations: Foundations, family office investors, and institutional investors are today launching several new clean energy investment alliances that aim to significantly reduce the transaction costs of investing in early- and growth-stage technologies:

§ Institutional Investors Mobilize Over $1 Billion to Scale Up Clean Energy Innovations: A consortium of long-term investors, including major pension funds and endowments, is committing to build a new nonprofit investment intermediary that identifies, screens, and assesses high-potential companies and projects for commercial investment that could also produce impactful and profitable solutions to climate change. This consortium is initially allocating a total of $1.2 billion, with a goal of mobilizing $2.5 billion over five years that would not otherwise be invested in climate solutions. Drawing from research led by Stanford University's Global Projects Center and Steyer-Taylor Center for Energy Policy and Finance, the new intermediary will focus on opportunities that would not fit into existing fund structures, moving companies and projects across the innovation and commercialization "valleys of death." The initial group of long-term investors that have announced they will work with this intermediary (along with capital allocations) includes:


o $500 million from University of California's Office of the Chief Investment Officer;

o $350 million from the New Zealand Superannuation Fund;

o $200 million from the Alaska Permanent Fund;

o $100 million from TIAA-CREF; and

o $10 million from Tamarisc.
In addition to the institutions that are announcing investment funds, the Hewlett Foundation, ClimateWorks Foundation, and other philanthropic partners are announcing they will provide grant funding to launch and support the initial operations of the new intermediary.

§ Over 250 Foundations and Family Offices Collaborate on Clean Energy Investing:


o The CREO Syndicate is launching today as a merger of the CREO Network and Cleantech Syndicate, bringing together over 100 family offices, advisors, and other investors representing more than $50 billion of investible capital. Collectively, the members of the CREO Syndicate have invested over $1.5 billion into clean energy and the environment and plan to invest an additional $2 billion over the next five years. As a "cradle to scale" collaborative platform, the core mission of the nonprofit CREO Syndicate is facilitate greater investment in companies with environmental, energy, and climate impact.

o Confluence Philanthropy and the CREO Syndicate are announcing a new joint initiative called the Climate Solutions Collaborative. Confluence Philanthropy is an alliance of 200 foundations and advisors dedicated to mission-related investing that represent over $100 billion of investible capital. By providing structured educational resources for asset owners, the Climate Solutions Collaborative will aim to increase all of its members' investments in climate solutions by at least 20% above their 2014 levels by 2020.

§ Philanthropists Fund Promising Clean Energy Technologies: PRIME Coalition is launching as a nonprofit organization dedicated to facilitating charitable investment in market-based solutions to climate change. Supported by the Betsy and Jesse Fink Foundation, Blue Haven Initiative, the Chesonis Family Foundation, Echoing Green, Glass Charitable Trust, the Pritzker Innovation Fund, the Stiefel Family Foundation, and the Will & Jada Smith Family Foundation, PRIME is focused on early-stage innovations that promise to significantly reduce greenhouse gas emissions. Many philanthropic funders want to put their charitable capital to work in this field, but struggle with high transaction costs and complex investment structures; PRIME aims to lower these barriers by identifying the most promising new interventions, and enlisting legal and financial support that make it easier to place capital.
Additional Investment Commitments: Today, responding to the Administration's call to action, many other investors are making new and measurable asset allocations to fund clean energy innovation and climate solutions.

§ Goldman Sachs is targeting $500 million of financing and co-investments in companies that develop and deploy advanced clean energy technologies, including for smart grid infrastructure and advanced battery solutions. Investments in advanced technologies are important in order to modernize the grid and facilitate reliable and flexible expansion of clean energy, and are part of Goldman Sachs' longstanding commitment to deploying capital to scale up clean technology and renewable energy.

§ Divest Invest Philanthropy, a coalition of over ninety foundations and other investors representing $4.8 billion in total assets, is committing at least 5%—and in many cases over 10%—of their respective endowments to investing in new energy solutions over the next five years. Participating foundations include the Christensen Family Foundation, the Compton Foundation, the Betsy and Jesse Fink Foundation, the General Service Foundation, the Nia Community Fund, the Overbrook Foundation, the Rockefeller Brothers Fund, the Schmidt Family Foundation, and the Switzer Foundation. Specific commitments as of today include:


o The Edward Mother Earth Foundation is committing to allocate at least $3.8 million in mission-related investing for clean technology and renewable generation, focusing efficient, clean, and fast solutions to global warming.

o The John Merck Fund (JMF) is planning to allocate up to 100% of its more than $65 million endowment for investments focused on climate solutions, clean energy generation, and environmental health.

o Meyer Family Enterprises, a $30 million family office, will allocate approximately 15% of its assets to clean energy solutions, in addition to its goal of achieving 100% impact by 2020.

o The Sierra Club Foundation is making ?a new commitment of $4 million to climate solutions and clean energy investments that are consistent with both its fiduciary responsibilities and its mission to educate and empower people to protect and improve the natural and human environment. The foundation's $60 million operating and endowment funds include $6 million of investments in renewable energy, efficiency, and clean energy technologies as well as green bonds. Today's new commitment of $4 million will specifically target innovative technologies and clean energy investments that offer potential solutions to accelerate the transition to a clean energy economy by 2050.

o The Wallace Global Fund is aligning 100% of its endowment with its mission, including approximately 35% of the portfolio dedicated to investments in climate solutions, and $20 million deployed into new clean energy technologies.

§ Draper Richards Kaplan Foundation (DRK) is announcing that as part of its new $65 million fund to support 100 next-generation social enterprises, it will allocate a portion to find, fund, and support new and powerful models of innovation in the clean energy space.

§ The Flora Family Foundation is committing to invest over $5 million with a focus on market innovations related to climate solutions, renewable energy generation, energy efficiency, and environmental sustainability.

§ A number of other foundations, endowments, and family offices are making new investment commitments that together exceed $500 million, including but not limited to Drakes View, which is expanding its investments in sustainable real assets including renewable energy, energy efficiency and water infrastructure; the McDougal Family Foundation, which is allocating a significant portion of its portfolio to renewable energy and renewable resources; Mercy Investment Services, the socially responsible investment program of The Sisters of Mercy, a community of Roman Catholic women founded out of a commitment to persons who are poor and vulnerable, which is directing half of its private equity investments to companies focused on renewable energy, energy and water efficiency, materials recycling, green building practices, and sustainable agriculture; Treehouse Investments, which is committing substantially all of its assets to investments in transformational business models that mitigate the adverse impacts of climate change, including renewable energy technology and production, energy efficiency, natural resources conservation, and market innovation supporting climate resilience in emerging markets; and the Unitarian Universalist Association, which has long incorporated the principles of socially responsible investing into its endowment, and is now placing a priority on moving capital towards climate solutions.

§ Duke University's Center for the Advancement of Social Entrepreneurship (CASE) today released Impact Investment Clean Energy and Climate Solutions 2015 Sector Highlights on investments in clean energy and climate solutions committed at the June 2014 White House Roundtable on Impact Investing. From the $1.5 billion committed last June to new impact investments, more than 75% of the 29 participating organizations indicated an intention to invest in clean energy and environment solutions over the next 2-5 years.
Accelerating Clean Energy Innovation: Today, several nonprofit programs that nurture early-stage clean energy startups and scientists are building on past support from the Federal government with new public-private partnerships.

§ Clean Energy Trust, a Chicago-based nonprofit startup accelerator supported by the U.S. Department of Energy (DOE), is committing $10 million in privately raised seed capital to Midwestern clean energy technology startups, especially those born of National Laboratory and university research. Over the next 10 years, Clean Energy Trust aims to help these companies raise an additional $100 million in private and public capital.

§ Energy Excelerator, a Hawaii-based nonprofit startup program dedicated to solving the world's energy challenges, is announcing the launch of a new $3 million new fund, EEx Fund One, which will support Energy Excelerator portfolio companies that have been the most successful in raising private capital. Energy Excelerator has supported 32 companies in energy, transportation, water, agriculture, and cybersecurity with strategic relationships and growth funding, and has itself received nearly $40 million in support from the U.S. Department of Defense's Office of Naval Research, the U.S. Department of Energy, and the Blackstone Charitable Foundation.

§ Lawrence Berkeley National Laboratory (LBNL) is announcing its expansion of a new $5 million public-private partnership to support Cyclotron Road, a home for entrepreneurial researchers to advance energy technologies until they can succeed beyond the research lab. By leveraging the unique national laboratory facilities and expertise of the DOE, Cyclotron Road promises to significantly reduce the time and cost of energy innovation, providing a cohort of scientists with the time and resources to develop breakthrough energy materials and manufacturing technologies. With support from LBNL; the DOE's Advanced Manufacturing Office; CalCEF Innovations; The 11th Hour Project, A Program of The Schmidt Family Foundation; and Jones Day, the new Cyclotron Road Partnership will expand the program's impact by supporting a second cohort of innovators this year, and creating the Cyclotron Road Leadership Council, an advisory group of experts from the DOE national labs, industry, venture capital, and philanthropy.
Building on Past Accomplishments

§ The Advanced Research Projects Agency—Energy (ARPA-E) has invested approximately $1.1 billion across more than 400 potentially transformational energy technology projects, which have generated over $850 million in follow-on funding. The President's FY16 Budget called for $325 million for ARPA-E to support additional investment in high-potential, high-impact energy projects that are too early for private sector or other Department of Energy (DOE) investment.

§ DOE's Office of Energy Efficiency and Renewable Energy (EERE) will soon begin operating its Small Business Voucher (SBV) pilot program, a $20 million investment in small business assistance and collaborative research with the potential to change the way that DOE's national labs engage with clean energy entrepreneurs. Small businesses from across the country will begin working with DOE labs on cutting-edge research and commercialization challenges to bring the next generation of EERE technologies to market.

§ EERE's Lab-Corps pilot is a $2.3 million program aimed at accelerating the transfer of new clean energy technologies from National Labs into the commercial marketplace by training and empowering scientists to successfully shift their discoveries into high-impact, real world technologies in the private sector. Through this program, National Lab scientists are receiving training on how to identify private sector opportunities for commercializing promising sustainable transportation, renewable power, and energy efficiency technologies.

§ The DOE Loan Programs Office currently manages a more than $30 billion portfolio of projects, including the first new nuclear power plant to be licensed and constructed in the United States in more than thirty years, some of the largest utility-scale solar facilities in the world, dozens of retooled auto manufacturing plants producing some of America's best-selling vehicles, the world's largest solar thermal energy storage system, and many other ground-breaking projects. Overall, these loans and loan guarantees have resulted in more than $50 billion in total project investment.

§ The DOE Office of Nuclear Energy (NE) is investing up to $452 million dollars over five years to support first-of-a-kind costs associated with certification and licensing activities for small modular reactors (SMRs) through the Nuclear Regulatory Commission. By utilizing cost-share agreements with private industry, NE supports the domestic development of these innovative nuclear technologies, thereby strengthening American manufacturing capabilities and the associated nuclear supply chain, improving the domestic employment opportunities, and creating important export opportunities for the United States.

§ DOE's Better Buildings Challenge partners have cut energy waste by 94 trillion British thermal units (TBTUs) since President Obama first launched the challenge in 2011. The energy savings have saved partners a total of $840 million dollars in energy costs and avoided 6 million tons of harmful carbon emissions, equivalent to cutting the emissions of 1 million cars. The Better Buildings Challenge now has more than 250 partners representing 3.5 billion square feet, 650 manufacturing plants, 50 cities and states, and $5.5 billion in financing investments.
Barack Obama, Fact Sheet: Obama Administration Announces More Than $4 Billion in Private Sector Commitments and Executive Actions to Scale up Investment in Clean Energy Innovation Online by Gerhard Peters and John T. Woolley, The American Presidency Project https://www.presidency.ucsb.edu/node/321406