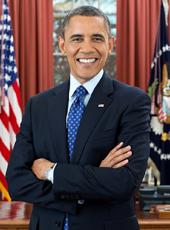 Fact Sheet: Investing in African Trade for our Common Future
Increased regional and international trade has been one of the drivers of Africa's extraordinary average annual GDP growth rate of 5.1 percent over the last decade. President Obama and his Administration are committed to sustaining and accelerating this growth through a comprehensive strategy to realize the potential of a renewed African Growth and Opportunity Act (AGOA). This strategy includes the following key elements:
•    Renew and Update AGOA to Increase Market Access Opportunities for Africa
•    Find Synergies through Aligning Assistance
•    Improve Infrastructure to Enhance Competitiveness
•    Strengthen Trade Capacity Building, Value Added Production, and Supply Chains to Increase AGOA Utilization
•    Create New Markets for Africa
Duty free access to the U.S. market under AGOA over the last 14 years has contributed to Africa's economic success, as exports from sub-Saharan Africa to the United States more than doubled and non-oil / non-mineral exports have increased fourfold. The application of AGOA's eligibility criteria and engagement with African governments under the President's Trade Africa initiative have reinforced broader U.S. and African efforts to promote good governance and improve the business environment in a number of countries, helping develop their competitiveness as an investment destination. To fully realize AGOA's promise the Administration is committed to renewing and improving AGOA, to further engaging on trade and investment facilitating policies, and to continuing and expanding the broad range of trade capacity building support it provides.
Renew and Update AGOA to Increase Market Access Opportunities for Africa
The Administration is committed to working with Congress to renew and update AGOA to increase market access opportunities for Africa, encourage greater U.S. investment on the continent, and support broad-based growth and two-way trade.
Approve a Long Term Extension of AGOA including "Third Country Fabric:" A long-term extension of AGOA will offer greater certainty in the investment climate, help incentivize such investments and allow lesser-developed African beneficiaries to continue to develop the capacity to trade and take advantage of AGOA preferences.
Expand AGOA's product coverage: AGOA already provides duty-free access for 97.5 percent of all tariff lines for virtually all AGOA beneficiaries. However, there are 316 tariff lines - most covering agricultural products - that are not currently included. While these products have historically been import sensitive, it is important to examine whether any products can now be added to AGOA.
Improve Rules of Origin: AGOA offers some of the most flexible rules of origin of any U.S. trade arrangement. In an effort to update the rules, however, the Administration is working to identify ways to provide greater flexibility, encourage regional integration and the development of regional value chains, and incentivize more U.S.-Africa trade.
Update Eligibility Criteria and Review Processes: AGOA's eligibility criteria and review processes have not been updated since its launch, notwithstanding changes in African and global trade practices over the last 14 years. The Administration is working to identify ways that the criteria can be updated to address current challenges and to improve the effectiveness of the review processes.
Find Synergies through Aligning Assistance
President Obama has issued a Presidential Memorandum tasking agencies to recommend strategies to coordinate their trade and investment capacity building activities both across the U.S. Government and with a range of partners: African governments, the private sector, regional economic communities, and international partners such as the African Development Bank. The Steering Group will explore options such as supporting African efforts to develop country- and region-specific AGOA export strategies, developing compacts identifying complementary strategies and investments to be made by the AGOA countries, and partnering with companies and trade associations to develop private sector sourcing initiatives.
Improve Infrastructure to Enhance Competitiveness
The United States will link AGOA to a web of initiatives to help remove infrastructure-related constraints, which a number of recent studies identified as one of the major impediments to developing trade in Africa and improving competitiveness.
Address Hard Infrastructure Constraints: Inadequate infrastructure, particularly in the energy and transportation sectors, impedes the ability of African firms to participate more fully in regional and global trade and hinders international investment in Africa.
Ø In June 2013, President Obama launched Power Africa, an innovative private sector-led initiative aimed at doubling electricity access in sub-Saharan Africa by addressing critical constraints to energy sector development. Power Africa aims to add more than 10,000 megawatts of electricity generation capacity in six initial focus countries, making electricity available to an additional 20 million households and commercial entities.
Ø The U.S.-Africa Clean Energy Finance (ACEF) initiative is focused on supporting the deployment of renewable energy and related infrastructure that is a critical complement to more traditional sources of energy in Africa. ACEF aligns the U.S. Trade and Development Agency's (USTDA) project planning expertise and the U.S. Overseas Private Investment Corporation's (OPIC) financing and risk mitigation tools to support private sector investment and increase support for U.S. businesses and exports in sub-Saharan Africa's clean energy sector. Phase one of the program is on track to catalyze over $1 billion of investment in projects across Africa.
Ø USTDA is using its project planning and partnership building tools, including feasibility studies, technical assistance and reverse trade missions, to develop energy, transportation and telecommunications infrastructure that can help increase trade capacity and reduce the costs of doing business.
Ø The Millennium Challenge Corporation (MCC) has provided over $3 billion for compacts that support trade, principally through infrastructure, such as roads, ports, and airports, but also for improving the productivity of export-oriented industries, including agriculture, that benefit small and medium enterprises. Going forward, MCC will intensify its analysis of trade competitiveness, including competitiveness of AGOA product lines, for AGOA beneficiaries. MCC will also explore opportunities for regional integration that facilitate trade and address trade barriers through policy and institutional reform.
Ø Through its engagement with TradeMark East Africa (TMEA), the U.S. Agency for International Development (USAID) is addressing port infrastructure issues at the key ports of Mombasa, Kenya and Dar es Salaam, Tanzania. The United States will build on this work, including by improving trade and transport efficiency along the Northern and Central Corridors.
Ø The United States will leverage its relationships with the multilateral development banks, particularly the African Development Bank and the World Bank, as well as with other donor countries, to promote additional infrastructure investment, including through regional projects, that will help African countries improve their competitiveness and increase utilization of AGOA.
Improve Soft Infrastructure: Inefficiency and corruption at the border are among the most significant obstacles to trade in Africa. These problems are particularly acute for landlocked countries.
Ø The United States will provide assistance for reforms envisioned by the recently-concluded World Trade Organization Trade Facilitation Agreement to lower the cost of doing business in Africa. Such reforms will increase customs efficiency and ease access to new export opportunities through measures like transparency in customs practices, on-line publishing of customs information, reduction of documentary requirements, and pre-arrival processing of documents. This translates to reduced delays for traders at the border, decreased corruption, and more trade opportunities.
Ø Through TMEA, the United States will continue to support efforts to reduce transit times along transportation corridors in the East African Community (EAC), including through the migration of countries to electronic platforms and, ultimately, "single window systems" as well as the establishment of "one-stop-border-posts," providing a single entry/departure processing procedure.
Ø Through USAID, the United States will continue to support the movement of the African countries towards computerized and common regional customs platforms, like the "Revenue Authorities Digital Data Exchange 2.0" (RADDEx 2.0) platform in the EAC. USAID also will continue to support African public and private sector partners efforts to shine a light on, and address, obstacles to transport and trade, including making available time and cost to trade data across Africa. This includes continued support for the "Borderless Alliance" in West Africa.
Ø Through USAID and the Department of Transportation, the United States will provide technical assistance in upgrading and harmonizing regulations and standards across transportation sectors, which will facilitate the flow of goods, enhance safety, and promote more efficient use of transportation resources.
Strengthen Trade Capacity Building, Value Added Production, And Supply Chains to Improve AGOA Utilization
In many cases, African producers have difficulty exporting to the United States under AGOA because they cannot meet U.S. sanitary and phytosanitary (SPS) requirements or quality and marketing standards, or because they lack other technical skills. The United States will offer a range of trade capacity building assistance to help address these constraints and to target priority supply chains for export.
Build Capacity to Meet SPS Measures: Through USAID and USDA, the United States is helping African governments develop institutional capacity to operate science-based animal and plant health and food safety systems, in harmony with international standards. The United States is launching a new five-year SPS policy and regulatory program supporting regional economic communities and the African Union's Year of Agriculture. This program will serve to increase laboratory capacity, implement aflatoxin controls, and improve regulatory policies and structures in sub-Saharan Africa, in concert with programs under the Feed the Future and Trade Africa initiatives as well as the Doing Business in Africa Campaign.
Build Capacity to Meet Quality and Marketing Standards: The United States will expand its Standards Alliance initiative, a public-private partnership between USAID and the American National Standards Institute, to help African producers meet U.S. quality standards and marketing requirements. Work is currently underway with the EAC, under the Trade Africa umbrella, and with the Southern Africa Development Community. USTDA will also partner with the National Electrical Manufacturers Association on the U.S.-Africa Energy Sector Standards Cooperation Program, a series of technical workshops to facilitate greater engagement between the public and private sector in the United States and sub-Saharan African countries to increase cooperation on standards and regulations for grid and off-grid energy infrastructure.
Invest in Skills Building: The United States will leverage initiatives and projects such as the Young African Leaders Initiative, the African Women's Entrepreneurship Program, Higher Education for Development, and USDA's Cochran and Borlaug Fellowship programs, as well as the expertise of agencies like the Small Business Administration, to deliver targeted skills training designed to expand the capacity of African entrepreneurs to trade and increase productivity in key sectors, including through e-learning.
Advance Policies that Promote Economic Growth: Working bilaterally and through international financial institutions, the United States will amplify efforts to encourage domestic policies that promote economic growth. Reforms to promote transparency, public financial management, fair government procurement and efforts to enhance the regulatory environment will help African countries increase predictability for domestic and foreign investment and improve their ability to trade.
Create New Markets for Africa
Promote Regional Integration: Deepening regional integration is key to improving Africa's competitiveness and increasing sourcing from Africa. The United States is working to promote regional integration through a number of policies and programs. For example, through the Department of the Treasury, the United States is working with the EAC to implement an integrated payment system that will facilitate cross-border movement of goods, services, and capital. In addition, under Trade Africa, the United States is exploring a regional investment agreement with the EAC. This agreement will advance common practices and an improved investment climate across the entire EAC region. As the initial EAC-focused Trade Africa work progresses, we will turn to expanding the initiative over time within sub-Saharan Africa.
Transform Existing "Trade Hubs" into "U.S.-African Trade and Investment Hubs:" The United States will upgrade the existing African Trade Hubs to "U.S.-African Trade and Investment Hubs" that will better support African exports to the United States, as well as create new opportunities for U.S. investment in and exports to Africa.
Increase U.S. Government Commercial Presence in Africa: The U.S. Department of Commerce is doubling its presence in Africa, and USTDA and OPIC are posting additional personnel to help facilitate increased trade and investment with Africa.
Bring the Global Entrepreneurship Summit (GES) to North and Sub-Saharan Africa: The GES is a premier platform for entrepreneurs to showcase their businesses, build new networks, and learn about the latest developments in their field. Morocco will host GES in November. A sub-Saharan African country will do so for the first time in 2015.
Barack Obama, Fact Sheet: Investing in African Trade for our Common Future Online by Gerhard Peters and John T. Woolley, The American Presidency Project https://www.presidency.ucsb.edu/node/308721