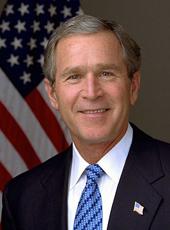 Fact Sheet: Honoring America's Veterans
Veterans Day 2005
On Veterans Day, America Honors Our Nation's Men And Women In Uniform And Their Families Who Have Sacrificed For Our Nation. Members of the Army, Navy, Air Force, Marines, and Coast Guard have protected our country and liberated millions of people around the world from tyranny and terror.

President Bush Is Dedicated To Supporting Our Nation's 25 Million Veterans, And His Administration Has A Record Of Accomplishment For Those Who Have Sacrificed For Our Liberty And Security. Since the President took office, the Administration has increased spending for veterans by $24 billion – a total of 53 percent. In the President's first four years in office, spending for veterans increased twice as much as it did in the eight years of the previous Administration.

The Administration Is Committed To Providing A Seamless Transition For Veterans As They Leave The Military. Agencies throughout the Federal government, including the Departments of Agriculture, Commerce, Defense, Education, Energy, Health and Human Services, Homeland Security, Housing and Urban Development, Interior, Justice, Labor, Transportation, Treasury, and Veterans Affairs, offer programs and services for America's newest veterans and for the military families who stand behind our servicemen and women.
Improving Health Care for Veterans
Health Care For Veterans Is A Top Priority. President Bush recognizes the importance of health care to veterans and has made it a priority to improve the current system. Since taking office, the President has increased the Department of Veterans Affairs (VA) medical care budget by 51 percent, and these resources are being used to make real improvements for veterans. Over the past four years, the number of total outpatient visits and volume of prescriptions filled have increased, and disability claims are being processed faster.

VA Facilities Are Being Modernized And Expanded. In the last two years, the Administration has committed more than $1.5 billion to modernizing and expanding VA facilities so that more veterans can get care closer to home. The Administration is committed to helping the veterans who fought and sacrificed for America get the quality care they deserve.

Priority Scheduling Gives Precedence To Veterans With The Greatest Needs. Treating veterans with military disabilities, lower incomes, and special needs has always been VA's core health care mission. Under the President's leadership, the Administration has refocused resources and implemented a priority scheduling system to ensure that returning combat veterans and core-mission veterans are first in line.

Expanded Access Allows For Long-Term Care In The Most Non-Intrusive Settings. The Administration's budgets continue to promote non-institutional long-term care that allows veterans to live and be cared for near or in the comfort and familiar settings of their homes surrounded by their families.
Serving America's Veterans and Caring for Families of Veterans
President Bush Is The First President In Over 100 Years To Sign Concurrent Receipt Legislation. President Bush twice signed legislation effectively providing "concurrent receipt" of both military retired pay and VA disability compensation for those regular military retirees most deserving – combat-injured and highly disabled veterans – reversing a century-old law preventing concurrent receipt.

The President Kept His Promise To Award Disability Claims Faster. The President promised to reduce the disability claims backlog, and at his request, Congress has provided VA with the resources it needs to award claims faster. Since January 2002, the average length of time to process a veteran's disability compensation or pension claim has dropped from approximately 230 days to 167 days.

The Administration Has Increased Traumatic Injury And Death Benefits. The President signed into law proposals increasing the death gratuity for deaths in Operation Enduring Freedom, Operation Iraqi Freedom, or combat-related activities from $12,420 to $100,000; increasing the maximum life insurance benefit from $250,000 to $400,000; and providing a lump sum payment of up to $100,000 for serious traumatic injuries occurring in service.

New And Expanded Benefits Provide For Families Of Veterans. VA makes pensions based on need available to surviving spouses and unmarried children of deceased veterans with wartime experience. President Bush signed the Veterans Benefits Act authorizing new and expanded benefits for disabled veterans, surviving spouses, and children.

Faith-Based And Community Grants Help Homeless Veterans. President Bush expanded faith-based and community grants to all 50 States, Washington, D.C., and to Indian Tribal governments for the first time in history. Under his leadership, veterans have decreased by 10 percent as a percent of the adult homeless population, and the number of veterans homeless on any given night has decreased by 20 percent.

Taking Steps To Honor American Veterans Laid To Rest. To comfort families and honor veterans with a hallowed, final resting place, the President signed the National Cemetery Expansion Act of 2003 into law, authorizing the future development of six new national cemeteries across the country. Between FY 2001 and FY 2005, VA provided more than 1.7 million headstones and markers to honor American veterans laid to rest in national and state veteran cemeteries and private cemeteries around the world. By 2010, 90 percent of America's veterans will have access to a burial option within 75 miles of their residence, either at a National Cemetery or State Veterans Cemetery that was constructed or expanded through Federal grants.

The President Is Committed To Safeguarding America's Symbols Of Freedom. The American flag is a special mark of pride and dignity to America's veterans – and the President believes it deserves to be protected in the Constitution. In June, the House of Representatives voted for a constitutional amendment to ban flag desecration, and the President has urged the Senate to pass this important amendment this year.
Helping America's Newest Veterans Transition To Civilian Life
New Partnerships And Innovative Programs Facilitate Benefits Delivery Upon Discharge From Military Service. Under the President's leadership, agencies and departments throughout the Federal government are joining forces to provide programs and services for America's newest veterans and military families, including:

VA, The Department Of Defense (DoD), And The Department Of Labor (DOL) Have Developed A Partnership To Facilitate The Delivery Of Services To Veterans And Military Beneficiaries. VA experts are reaching out to service members at 140 military bases to provide America's newest veterans with the benefits they have earned and to bring about a seamless transition for new veterans from military to civilian status.

VA And DoD Work Together To Meet The Needs Of The Men And Women Who Served In Operation Iraqi Freedom And Operation Enduring Freedom (OIF/OEF). Together, VA and DoD are finding ways to move records more efficiently between the two agencies; share critical medical information electronically; process benefits claims quickly and efficiently; and, in every way possible, support their transition from active duty to civilian life. A VA website provides information about a wide range of benefits for returning veterans at www.seamlesstransition.va.gov.

The Department Of Housing And Urban Development's (HUD) HUDVET Resource Center Is Specifically Designed To Help Veterans, Current Military Members, And Their Families Make Full Use Of HUD's Programs And Services. In cooperation with leading veteran's groups, HUDVET produces a Resource Directory and maintains a comprehensive web site. Both the Directory and the website provide an easy-to-use breakout – on a state-by-state basis – of the organizations and services available to veterans.

DOL And The Department Of Justice (DOJ) And The Office Of Special Counsel Actively Protect The Employment Rights Of Veterans. DOL helps veterans and employers understand their rights and responsibilities under the Uniformed Services Employment & Reemployment Rights Act (USERRA). This law requires employers of active duty service members, reservists, and deployed National Guard members to reinstate them to their jobs with full pay and benefits. If returning soldiers face problems in securing reinstatement and legal action is necessary, DOJ personally represents returning soldiers under USERRA when they seek to resume the job they left to serve their country. The Office of Special Counsel represents soldiers' Federal sector USERRA claims.

DOL Helps Employers Find Qualified Veterans As They Leave The Military And Helps Veterans Make The Best Use Of A National Network Of Employment Resources. Through a national "Hire Vets First" campaign, the Department is raising awareness among employers of the relevance and value of military training and experience to civilian occupations. DOL provides more than $7 billion in job training and employment services, which are delivered through a nationwide network of One-Stop Career Centers and administered in partnership with states and local communities, and assures that every veteran, surviving spouse, or the spouses of captured or missing service members, have priority for these services.

New Initiative To Increase The Number Of Contracts The Department of Agriculture (USDA) Awards To Disabled Veterans Who Own Small Businesses. USDA developed a Service Disabled Veteran-Owned Small Business Strategy to provide the formal direction and aggressive activities necessary to afford its contracting opportunities to veteran small business owners throughout the country.
DoD And The Department Of Education Have Partnered On The Highly Successful Troops-To-Teachers Program. Under this program, the Secretary of Education supports DoD in providing assistance, including stipends of up to $5,000, to eligible members of the Armed Forces so that they can obtain certification or licensing to become highly qualified elementary, secondary, or vocational/technical teachers. In addition, the program helps these new teachers find employment.
George W. Bush, Fact Sheet: Honoring America's Veterans Online by Gerhard Peters and John T. Woolley, The American Presidency Project https://www.presidency.ucsb.edu/node/282864