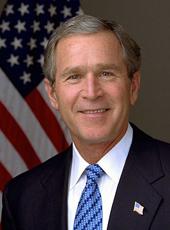 Fact Sheet: General Michael V. Hayden: Extremely Well Qualified to Lead the CIA
General Hayden Is Extremely Well Qualified To Lead The CIA
General Hayden Has Served At The Highest Levels Of The Intel Community. General Hayden served as Director of the National Security Agency for six years before assuming the position of Principal Deputy Director of National Intelligence. General Hayden has served in the intelligence community for more than 20 years and brings vast experience in technical and human source collection, intelligence analysis, and policy support, including overseas postings in Europe and Asia.
General Hayden Has A Proven Track Record. As NSA Director, General Hayden successfully led the Nation's largest intelligence agency through a generational change, while building a partnership between the NSA and CIA that is critical to our success in the War on Terror.
General Hayden Is Committed To Intelligence Reform. General Hayden played a key role in designing a new intelligence community to meet the threats of the 21st Century. He is committed to implementing the Intelligence Reform and Terrorism Prevention Act signed by the President in December 2004. He will bring his commitment to reform to the CIA.
General Hayden's Military Background Is A Valuable Asset
Six Prior CIA Heads Have Worn The Uniform Of The Nation's Armed Forces. Six of the 19 previous Directors of Central Intelligence were senior military officials - Rear Admiral Sidney Souers, Lieutenant General Hoyt Vandenberg, Rear Admiral Roscoe Hillenkoetter, General Walter Bedell Smith, Vice Admiral William Raborn Jr., and Admiral Stansfield Turner. In addition, Admiral William Studeman served twice as Acting DCI, and Lieutenant General Vernon Walters also served as Acting DCI.
General Hayden Was Nominated To Lead The CIA Because Of His Experience And Proven Leadership. General Hayden is well-known and widely respected as an independent and creative thinker. The Senate agreed last year when it unanimously confirmed him to serve as Principal Deputy DNI.
General Hayden's Background Will Enable Him To Improve Coordination Within The Intelligence Community. Providing the best intelligence support to military commanders and cooperating closely with the Department of Defense are among the CIA's most important missions. Continued close coordination between the CIA and the Department of Defense is vital to winning the war on terror, combating the spread of weapons of mass destruction, and protecting the homeland.
General Hayden Will Build A Strong, Diverse Leadership Team
Ambassador Negroponte And General Hayden Will Ensure The CIA Leadership Team Is Experienced, Diverse, And Well-Suited To The Agency's Unique Missions.
The Deputy CIA Director's Background Will Complement General Hayden's Experience. The leading contender to serve as General Hayden's deputy is a 23-year veteran of CIA's clandestine service who held a series of managerial positions in the field and at CIA Headquarters, including several senior leadership posts in the Directorate of Operations.
George W. Bush, Fact Sheet: General Michael V. Hayden: Extremely Well Qualified to Lead the CIA Online by Gerhard Peters and John T. Woolley, The American Presidency Project https://www.presidency.ucsb.edu/node/282506