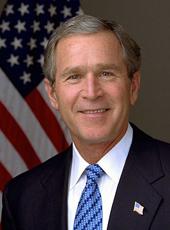 Fact Sheet: Expanding Homeownership Opportunities for All Americans
Today's Presidential Action
Today, President Bush signed into law the American Dream Downpayment Act of 2003, which will help approximately 40,000 families a year with their down payment and closing costs, and further strengthen America's housing market. This legislation complements the President's aggressive housing agenda announced in 2002 to dismantle the barriers to homeownership. Today, the Department of Housing and Urban Development (HUD) and the Census Bureau released data showing that new home construction in November reached its highest level in nearly 20 years. Overall housing starts rose 4.5 percent from October and rose 17.6 percent from November of 2002. Single-family housing starts totaled 1,695,000 (SAAR) in November, up 3.3 percent from October and up 20.8 percent from November 2002 -- a record for single-family starts. The strong housing market is beneficial for communities across the Nation. America's families have been refinancing due to the lowest mortgage rates in 45 years, saving hundreds of dollars a month on their home payments. The U.S. homeownership rate was 68.4% in the third quarter?its highest level ever.
Background on Today's Presidential Action
The biggest barrier to homeownership is often accumulating funds for a down payment. In June 2002, President Bush proposed the American Dream Downpayment Fund to help low-income families take much-needed steps to own a home of their own, and announced the goal of increasing the number of minority homeowners by at least 5.5 million before the end of the decade. President Bush's aggressive housing agenda to dismantle the barriers to homeownership includes providing down payment assistance through the American Dream Downpayment Fund; increasing the supply of affordable homes through the Single-Family Affordable Housing Tax Credit; increasing support for self-help homeownership programs like Habitat for Humanity; simplifying the home-buying process; and increasing home-buying education.
Dismantling the Barriers to Homeownership
President Bush issued America's Homeownership Challenge to the real estate
and mortgage finance industries to encourage them to join the effort to
close the gap that exists between the homeownership rates of minorities
and non-minorities. The Bush Administration and the America's
Homeownership Challenge partners in the private sector are working hard to
increase minority homeownership, and are seeing positive results:
There are more than 1 million new minority homeowners in the U.S. since the President's announcement 18 months ago. Nearly 1,500 low-income families are now using housing vouchers to pay their monthly mortgage or other costs of owning a home, and HUD is working with public housing authorities to allow the sale of some units to tenants. The Federal Trade Commission and HUD are working together to protect homebuyers from predatory lenders. The Federal Deposit Insurance Corporation is continuing to implement the Money Smart program, which is providing financial education services for potential homebuyers. Through America's Homeownership Challenge, more than 2 dozen companies have made commitments to increase minority homeownership, including pledges to provide more than $1.1 trillion in mortgage purchases for minority homebuyers this decade. The Bush Administration has begun the final stage of its effort to reduce closing costs, simplify the settlement paperwork, and eliminate surprise closing costs for American homebuyers by reforming the rules governing the Real Estate Settlement Procedures Act.
Strengthening Economic Activity
According to an analysis released in 2002 by HUD, meeting the President's
goal to close the housing gap will involve $256 billion in economic
activity in the form of construction and remodeling jobs, spending on
household goods, and other benefits. Because of rising home values,
Americans are enjoying more than $2.5 trillion of greater housing wealth
than they did at the beginning of 2001.
George W. Bush, Fact Sheet: Expanding Homeownership Opportunities for All Americans Online by Gerhard Peters and John T. Woolley, The American Presidency Project https://www.presidency.ucsb.edu/node/280193