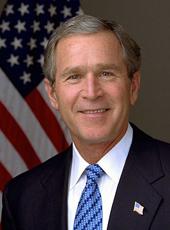 Fact Sheet: Expanding Homeownership for All Americans
Presidential Action
President Bush met with first-time homebuyers and housing counselors in Ardmore, Pennsylvania to discuss his homeownership initiative and aggressive agenda to dismantle the barriers to homeownership.
President Bush's housing agenda is producing real results. The overall U.S. homeownership rate set a new record of 68.6% in the fourth quarter -- its highest level ever. Since the President announced his initiative in June 2002, the Census estimates an increase of 1.53 million minority homeowners. In the fourth quarter of 2003, data was released showing that -- for the first time ever -- the majority of minority households are now homeowners. The minority homeownership rate set a new quarterly record of 50.6%, up 1.3 percentage points from the third quarter.
Signed into law by President Bush in December 2003, the American Dream Downpayment Act, a fund to help approximately 40,000 families a year with their down payment and closing costs, is set to begin helping families early this spring.
The strong housing market is beneficial for families across the Nation. American families have been refinancing due to historically low interest rates, reducing their mortgage payments by hundreds of dollars a month.
Background on Presidential Action
President Bush's initiative to dismantle the barriers to homeownership includes providing down payment assistance through the American Dream Downpayment Initiative; increasing the supply of affordable homes through the Single-Family Affordable Housing Tax Credit; increasing support for the Self-Help Homeownership Opportunities Program; and increasing home-buying education and counseling. In June 2002, President Bush issued America's Homeownership Challenge to the real estate and mortgage finance industries to encourage them to join the effort to close the gap that exists between the homeownership rates of minorities and non-minorities. The President also announced the goal of increasing the number of minority homeowners by at least 5.5 million families before the end of the decade.
Dismantling the Barriers to Homeownership

There are 1.53 million new minority homeowners in the U.S. since the President's announcement 21 months ago.
The President's FY 2005 budget provides $2.5 billion over five years to enact a single-family housing tax credit to increase the supply of affordable single-family homes. The President's budget also provides $45 million for housing counseling to support agencies counseling families on home-buying -- more than double the amount since 2001. And President Bush has also requested $200 million for the American Dream Downpayment Initiative -- making a difference in the lives of low-income homebuyers.
The President's FY 2005 budget supports rural homeownership through the Department of Agriculture with $2.7 billion in home loan guarantees for low- to moderate-income rural residents and $1.1 billion in direct loans for very low to low-income borrowers who are unable to secure a mortgage through a conventional lender. These loans are expected to provide 42,800 homeownership opportunities to rural families across America.
Through America's Homeownership Challenge, more than 2 dozen companies have made commitments to increase minority homeownership, including pledges to provide more than $1.1 trillion in mortgage purchases for minority homebuyers this decade.
The Federal Trade Commission and HUD are working together to protect homebuyers from predatory lenders.

Strengthening America's Economy

As 2004 begins, America's economy is strong and getting stronger as a result of the President's pro-growth policies.

More single-family homes were sold in 2003 than in any other year on record, and the homeownership rate is at a record-high of 68.6%.
Housing starts in 2003 were at the highest level in 25 years and home sales were the highest ever.
Mortgage rates remain near historic lows, making home buying easier. In the fourth quarter of 2003, the housing affordability index, which compares family income against mortgage payments, was at the best level since 1973.
Increased housing prices have added nearly $4 trillion to homeowner wealth since 2001.
Cash-out refinancing added $130 billion to household budgets in 2003.
George W. Bush, Fact Sheet: Expanding Homeownership for All Americans Online by Gerhard Peters and John T. Woolley, The American Presidency Project https://www.presidency.ucsb.edu/node/281710