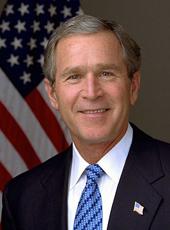 Fact Sheet: Economic Growth Continues - Unemployment Rate Falls to 4.7 Percent
Today, The Unemployment Rate Fell For The Second Straight Month. The unemployment rate fell to 4.7 percent - the lowest monthly rate since July 2001 and lower than the average of the 1970s, 1980s, and 1990s. In January, the economy created 193,000 jobs and has created over 2 million jobs over the past 12 months, and more than 4.7 million since August 2003.
The Economy Is Strong And Continues To Grow
Consumers Are Confident. The Conference Board index of consumer confidence surpassed expectations and rose to 106.3 in January - the highest level in over three years. According to the Conference Board, the number of consumers saying that jobs are "plentiful" rose to its highest level in over four years. Additionally, the University of Michigan consumer sentiment index reflected strong consumer confidence.
Incomes Increase. Real disposable incomes rose 0.4 percent in December and were up 1.4 percent for 2005. Since January 2001, real after-tax income per person has risen 7.9 percent. Real household net worth is at $51.1 trillion - an all-time high.
Retail Sales Rise. Nominal retail sales rose 0.7 percent in December and are up 6.4 percent from 2004. In December, real consumer spending posted a solid 0.9 percent gain and increased 3.4 percent over the past year.
Manufacturing Continues To Expand. The Institute for Supply Management (ISM), a private research group, reports manufacturing activity grew for the 32nd consecutive month in January. The ISM's manufacturing index reading of 54.8 indicates continued sector expansion. According to the Federal Reserve, total industrial production increased a solid 0.6 percent in December and manufacturing industrial production is up 3.8 percent over the past 12 months.
Durable Goods Orders Rise In December. New orders for durable goods surpassed expectations and increased 1.3 percent in December. New orders for machinery rose 6.5 percent - attaining the highest level since the series began in 1992. Over the past 12 months, new orders have increased 12.7 percent
Productivity Growth Is Strong. During the past four quarters, productivity has increased 2.3 percent. Productivity has grown at a 3.2 percent annual rate since the end of 2000.
Construction Spending Is At An All-Time High. Construction spending rose 1.0 percent in December. For 2005, spending reached a record $1.120 trillion - an increase of 8.9 percent over the previous record set in 2004. Housing starts in 2005 totaled 2.065 million units - 5.6% above 2004 and the highest level in over 30 years. Total sales of existing homes hit an all-time high of 7.072 million units in 2005 - up 4.2 percent from 2004. More Americans now own their homes than at any time in the Nation's history, and minority home ownership is at a record high.
Inflation Remains In Check. The Consumer Price Index (CPI) fell 0.1 percent in December reflecting a fall in energy prices. Core CPI has increased a moderate 2.2 percent over the past year, indicating core inflation remains contained.
The President's Agenda To Strengthen A Vibrant Economy
President Bush's Agenda Will Ensure Continued Opportunity For America's Workers And Entrepreneurs. In his State of the Union Address, the President laid out an agenda to maintain the economy's momentum and ensure that America remains the leader of the global economy. The President called upon Congress to make tax relief permanent and to continue working with him to limit the growth of government through fiscal discipline and remain on track to cut the deficit in half by 2009. We have reduced the growth of non-security discretionary spending every year since 2001, and last year this spending was cut. The President is advancing pro-growth policies to make the health care system affordable and accessible; reduce America's dependence on foreign oil through the Advanced Energy Initiative; continue to open markets to American goods and services; reform the immigration system and ensure secure and orderly borders; and encourage innovation through the American Competitiveness Initiative, which will double the Federal commitment to the most critical research programs emphasizing the physical sciences, modernize and make permanent the research and development tax credit, reform the job training system, and strengthen math and science education.
George W. Bush, Fact Sheet: Economic Growth Continues - Unemployment Rate Falls to 4.7 Percent Online by Gerhard Peters and John T. Woolley, The American Presidency Project https://www.presidency.ucsb.edu/node/282732