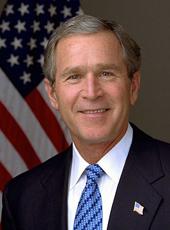 Fact Sheet: Economic Growth Continues - Almost 5 Million Jobs Created Since August 2003
Today, The Government Released New Jobs Figures - 243,000 Jobs Created In February. The economy created 243,000 jobs in February and has created about 2.1 million jobs over the past 12 months - and almost 5 million since August 2003. The unemployment rate is 4.8 percent - lower than the average of the 1970s, 1980s, and 1990s.
The Economy Is Strong And Continues To Grow
GDP Growth Is Strong. Real GDP increased 3.5 percent in 2005, and growth was revised up from an original estimate of 1.1 percent to a 1.6 percent annual rate for the fourth quarter of 2005. The economy has been growing for 17 straight quarters, and the composite index of leading indicators increased 1.1 percent in January, indicating continued economic growth. In the last five years, the President's tax relief has helped spur growth by keeping $880 billion in the hands of the American people. The Administration has reduced the growth of non-security discretionary spending every year since 2001, and at the President's request, Congress cut this spending last year.
State Unemployment Rates Fall. As of January, the unemployment rate is now at a record low in five states: Nevada, Florida, West Virginia, Montana, and Idaho. Over the past year, unemployment rates have decreased in 46 states.
Incomes Increase. Real disposable incomes have risen 2.2 percent over the past 12 months. Since January 2001, real after-tax income per person has risen 8.2 percent. Real household net worth is at an all-time high of $51.1 trillion, and the median net worth of American households rose 1.5 percent between 2001 and 2004.
Manufacturing Expansion Continues. The Institute for Supply Management (ISM), a private research group, reports manufacturing activity grew for the 33rd consecutive month in February. The ISM's manufacturing index reading of 56.7 indicates continued sector expansion. According to the Federal Reserve, over the past 12 months total industrial production rose 3.1 percent and manufacturing industrial production rose 4.5 percent, including 0.7 percent in January.
Inflation Remains Contained. The core Consumer Price Index (CPI) rose just 0.2 percent in January. Core CPI has increased a moderate 2.1 percent over the past 12 months, indicating core inflation remains contained.
Retail Sales Rise. Nominal retail sales rose 2.3 percent in January and are up 8.8 percent over the past 12 months. In January, real consumer spending posted a solid 0.4 percent gain and increased 3.6 percent over the past year.
Service Sector Grows. The ISM reports non-manufacturing business activity grew for the 35th consecutive month in February. The ISM's business activity index reading of 60.1 indicates continued sector growth.
Productivity Growth Continues. During the past four quarters, productivity has increased 2.5 percent. Productivity has grown at a 3.4 percent annual rate since the business-cycle peak in the first quarter of 2001.
Housing Starts Reach Highest Level In Over 30 Years. Housing starts in January totaled a seasonally adjusted annual rate of 2.276 million units - up 14.5 percent from December and the highest level in over 30 years.
The President's Agenda To Grow A Vibrant Economy
President Bush's Pro-Growth Policies Will Ensure Continued Economic Opportunity. The President has asked Congress to make tax relief permanent and presented a disciplined budget to halve the deficit by 2009. President Bush is working with Congress to make health care more affordable and accessible; increase America's energy independence; open additional markets to American products; reform the immigration system and ensure secure and orderly borders; and reform our legal system.
The President Proposed The American Competitiveness Initiative (ACI) To Encourage Innovation Throughout The Economy. The ACI will increase Federal investment in critical research, provide children with a strong math and science foundation, and ensure the Nation continues leading in innovation.
This Week, The President Submitted Line-Item Veto Legislation To Stop Wasteful Spending, Reduce The Budget Deficit, And Improve Accountability. Special fast-track procedures would be created to guarantee an up-or-down vote by a simple majority in Congress on a proposal by the President to rescind specific spending or tax legislation that has been passed.
George W. Bush, Fact Sheet: Economic Growth Continues - Almost 5 Million Jobs Created Since August 2003 Online by Gerhard Peters and John T. Woolley, The American Presidency Project https://www.presidency.ucsb.edu/node/283149