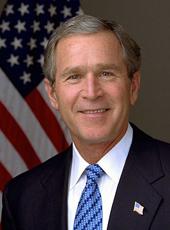 Fact Sheet: Compassion in Action: Producing Real Results for Americans Most in Need
Today, President Bush Addressed The Second White House National Conference On Faith-Based And Community Initiatives, Highlighting The Important Role Corporations And Foundations Play In Funding Social Services.
President Bush Announced There Was An Increase In Competitive Federal Grants To Faith-Based Organizations (FBOs) For The Third Straight Year. More than $2.1 billion in grants were awarded to religious organizations in FY2005 by seven Federal agencies.
This Week, The President Signed An Executive Order Creating The Center For Faith-Based And Community Initiatives In The Department Of Homeland Security (DHS). The Center will coordinate DHS's efforts to remove regulatory, contracting, and other programmatic obstacles to the participation of faith-based and community organizations in its provision of social and community services, including disaster relief and recovery services.
The President's Initiative Is Producing Real Results For Americans In Need
Continued Increase In Federal Dollars To Faith-Based Organizations. Recent data from a review of more than 23,000 grants provided by the U.S. Departments of Heath and Human Services (HHS), Housing and Urban Development (HUD), Justice (DOJ), Labor (DOL), Education, and Agriculture, and the U.S. Agency for International Development showed:
In Fiscal Year 2005, More Than $2.1 Billion In Competitive Grants Across Seven Federal Agencies Were Awarded To Faith-Based Organizations - Nearly 11% Of The Total Funding Awarded Through 130 Programs And 28 Program Areas. This is up from last year when $2.004 billion in grants were awarded to faith-based groups across the same agencies. Since 2003, HHS, HUD, DOJ, DOL, and Education have seen a 38% increase in the number of grants to faith-based groups - an increase of 616 grants over 2003; and a 21% increase in grant money awarded to faith-based organizations - an increase of more than $239 million.
Faith-Based Organizations Are Consistently Winning A Larger Share Of Competitive Funding. HHS programs represented the majority of available funding included in the report. HHS has seen a 64% increase in the amount of funding to FBOs since FY 2002 - from $477 million to $780 million. To access the full report, go to http://www.whitehouse.gov/government/fbci/data-collection-2005.html.
Helping The Poor Access New, Effective Programs. President Bush has created programs that mentor children of prisoners, train re-entering prisoners, treat addicts in the program of their choosing, discourage at-risk youth from gang activity, and provide technical assistance to small organizations seeking to help more people in need. From 2002 to 2006, President Bush requested $1.35 billion for these targeted initiatives, and Congress has appropriated $742 million. The President's 2007 budget calls for an additional $323 million for these programs, including funds for a new effort combating the spread of HIV/AIDS in minority communities.
Victory In The Federal Courts. Two important recent Federal Court decisions upheld President Bush's approach to FBOs and their rights. In American Jewish Congress v. Corporation for National and Community Service, the U.S. Court of Appeals for the District of Columbia upheld the right of AmeriCorps grant recipients to teach religious and secular subjects in religiously affiliated schools. In January 2006, the Supreme Court declined review of the decision, leaving the Court of Appeals' ruling intact. In October 2005, in the case of Lown v. Salvation Army, a Federal District Court for the Southern District of New York ruled that churches and religious organizations retain their hiring autonomy when they receive Federal financial assistance. The court recognized FBOs do not become an arm of the government merely by receiving funding to provide social services.
Expansion Of Individual Choice. President Bush believes Americans in need should have the right to access services from the program of their choice. To date, Congress has appropriated nearly $300 million for the Access to Recovery drug treatment initiative announced by President Bush in his 2003 State of the Union Address. The President's 2007 budget expands individual choice in job training by proposing $3.4 billion for Career Advancement Accounts; provides $100 million for students in failing schools to find quality education; and built upon the President's Access to Recovery program by providing incentives for states to convert substance abuse block grants to permit individual choice.
Protecting The Rights Of Faith-Based Organizations. In February 2006, President Bush signed the Deficit Reduction Act of 2005, which reauthorized welfare reform for another five years. The legislation also extended for five years a policy called Charitable Choice, which allows faith-based groups providing social services to receive Federal funding without altering their religious identities or changing their hiring practices.
Under The Deficit Reduction Act, Charitable Choice Provisions Will Now Apply To Two New Grant Programs Focusing On Supporting Healthy Marriages And Responsible Fatherhood. Faith-based and community groups are particularly effective in providing services in these areas.
The President Continues To Seek Congressional Action Providing Charitable Choice Protections To Other Social Service Programs.
Ending Discrimination Against Faith-Based Organizations. During the President's first term, Federal agencies promulgated fifteen final rules, including general rules covering funding from seven agencies; three regulations implementing Charitable Choice statutes; a DOL regulation implementing the amendment of EO 11246; and three regulations changing discriminatory language in specific HUD, Veterans' Affairs, and DOL programs. Additionally, the U.S. Department of Commerce published an interim final rule in August 2005 strengthening the Department's commitment to a level playing field for faith-based and community organizations. These regulations all clarify FBOs' eligibility to participate in Federal social service programs on the same basis as any other private organization and prohibits religious discrimination by distributors of Federal funds.
New Data Suggest Faith-Based Organizations Fare Poorly When State And Local Governments Administer Federal Formula Grants. In a first-ever look at five formula grant programs, FBOs received a small amount of funding, ranging from 1.7% to 5.5% -- a funding level disproportionately low to the number of FBO grant applicants.
Significant Federal Funding Is Devoted To Programs Operating Under Statutes Limiting Competition, Thereby Maintaining Funding For Providers Regardless Of Their Performance. The three largest competitive grant programs at HHS (with combined funds in excess of $8.3 billion) operate under statutes that limit competition. For example, only 5.9% of Head Start funds went to FBOs in FY2005.
Taking The Faith-Based And Community Initiative To The Heartland. President Bush continues working to ensure that equal treatment for faith-based and community organizations extends to the State and local administration of Federal grant programs. Thirty-two Governors (20 Republicans and 12 Democrats) and over 115 Mayors have established an office or liaison for faith-based and community initiatives, and the White House Office of Faith-Based and Community Initiatives (OFBCI) has held a series of regional conferences to ensure State and local administrators of Federal funding understand and implement equal-treatment regulations.
The Administration's Efforts Are Spreading Compassion And Assisting Americans In Need. For example, when the Department of Agriculture and HHS learned State health and human services agencies were routinely denying recovering addicts food stamp benefits because they were receiving rehabilitation services from faith-based recovery centers, these Federal agencies issued a joint letter to the Governors of every State clarifying the rules governing the Food Stamp Program. No recovering addict should be forced to choose between accessing effective treatment and retaining eligibility for food stamps, and guidance to that effect is being sent to all States.
Compassion Following The Gulf Coast Hurricanes. The compassionate response of faith-based and community groups to Gulf Coast hurricane victims is a reminder of the vital importance of these groups and the President's Initiative. The new DHS Center for Faith-Based and Community Initiatives will help integrate faith-based and community organizations into Federal, State, and local emergency response plans, enabling cooperation between these grassroots groups and various levels of government in disaster response efforts.
George W. Bush, Fact Sheet: Compassion in Action: Producing Real Results for Americans Most in Need Online by Gerhard Peters and John T. Woolley, The American Presidency Project https://www.presidency.ucsb.edu/node/283124