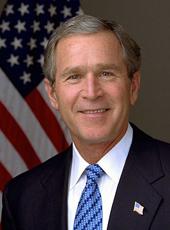 Fact Sheet: Commemorating World AIDS Day
Working With Global Partners, We Will Overcome HIV/AIDS Through Compassion, Commitment, And Decisive Action
Today's Presidential Action
On World AIDS Day, President Bush Stressed The Importance Of The Global Fight Against HIV/AIDS And Renewed America's Commitment To Turning The Tide Against The Deadly Disease. The President discussed actions being taken at home and abroad to fight HIV/AIDS; expressed solidarity with the Nation's global partners; and thanked health workers and volunteers around the world who show compassion in battling the disease on a daily basis. The President also provided updates on the Administration's efforts to combat the HIV/AIDS pandemic:
After Two Years, The President's Emergency Plan For AIDS Relief (PEPFAR) Has Supported Life-Saving Treatments For Approximately 400,000 Sub-Saharan Africans Living With HIV/AIDS. Before the President announced PEPFAR in 2003, only 50,000 of the more than four million people in sub-Saharan Africa needing immediate AIDS treatment were getting medicine.
The President Today Announced The New Partners Initiative As Part Of PEPFAR. By identifying and supporting the organizations that provide much of the health care in the developing world, including faith-based and community organizations, PEPFAR resources will reach more people, more effectively.
Americans Are Proud To Stand With Our Friends And Partners In Urgent Struggle. HIV/AIDS Is a global health crisis which has killed at least 20 million men, women, and children worldwide. More than 40 million people are living with this disease, including more than one million Americans. As those afflicted with AIDS reach out for help, the American people are responding by supporting national and local governments; non-governmental organizations, including faith-based and community organizations; and the private sector.
The White House Will Dim Its Lights This Evening To Commemorate World AIDS Day. Tonight, for 5 minutes at 7 pm EST, the White House will mark World AIDS Day by dimming the North Portico lights. The White House encourages States, communities, and the people of the United States to join in commemorating World AIDS Day by dimming their lights or participating in other appropriate activities.
Taking Action Against HIV/AIDS At Home And Abroad
The Administration Is Taking Action To Help The One Million Americans Living With HIV/AIDS. America sees an estimated 40,000 new infections each year, and the demographics of the disease are changing. HIV/AIDS is increasingly found among women and minorities, with nearly half of new infections occurring in the African-American community. HIV/AIDS remains a particular concern in the gay community, which has effectively fought this disease for decades through education and prevention.
With The Help Of Medicine, And Their Own Daily Courage, More Americans Are Managing HIV/AIDS - A Condition That Was Once Uniformly Fatal. The Federal Government provides more than $17 billion each year to help people in America living with HIV/AIDS. In the United States, some have now lived 15 years or more with HIV/AIDS. Due to domestic treatment and prevention efforts, HIV/AIDS is becoming more of a long-term illness like diabetes or heart disease.
To Turn The Tide Against HIV/AIDS In The United States And Provide More Help To People Who Need It Most, President Bush Calls On Congress To Reauthorize The Ryan White Care Act. The Ryan White Care Act must be improved and modernized so that the promise of new advancements in treatments and medical management can help patients with HIV/AIDS live longer and healthier lives. The President today reiterated his strong support for improved legislation which better targets resources to communities, particularly minority communities, where help is most needed.
President Bush Renewed The United States' Commitment To Support Our Global Partners And To The Historic Challenge Of Turning The Tide Against A Pandemic. Nations around the world are fighting for the lives of their citizens - and America is now their strongest partner in that fight.
The United States Is Supporting Our Partners Through The President's Emergency Plan For AIDS Relief. PEPFAR, the largest international health initiative dedicated to a single disease in history, is providing historic levels of support to the fight against the AIDS pandemic. This effort is designed to support and strengthen the AIDS-fighting strategies of many nations, including 15 heavily afflicted countries in Africa, Asia, and the Caribbean. The President has committed $15 billion over five years to support treatment for 2 million people, support prevention for 7 million, and support care for 10 million. After two years, approximately 400,000 sub-Saharan Africans are receiving the treatment they need.
The United States Is Supporting Our Partners Through The Global Fund. The Global Fund is helping nations purchase medicines and treat Tuberculosis, a deadly infection that often accompanies AIDS.
The United States Is Working With Our Partners To Provide Treatment And Expand Prevention Efforts That Emphasize Abstinence, Faithfulness In Marriage, And The Correct Use Of Condoms. This strategy - pioneered by Africans - has proven its effectiveness, and America stands behind the ABC approach to prevention.
The New Partners Initiative Will Expand Partnerships, Including Faith-Based And Community Organizations. This new initiative will establish a competitive grants process for new partners, including faith- and community-based organizations, with the desire and ability to help implement PEPFAR, but who have little or no experience in working with the United States government. By identifying and supporting the organizations that provide much of the health care in the developing world, PEPFAR resources will reach more people, more effectively.
The United States Congress And The American People Have Been Generous In The World's Efforts To Fight Global AIDS - And That Generosity Is Making A Difference. For example, in Namibia, PEPFAR funds helped a Lutheran Hospital build a new HIV-treatment center and hire 12 doctors, nurses, and other staff. As a result, this clinic has been able to put 1,475 people on treatment in less than a year. In Botswana, PEPFAR funds have allowed two clinics to launch a peer counseling program for mothers, which provides emotional support and helps prevent mother-to-child transmission of HIV. And in Uganda, PEPFAR funds helped Dr. Peter Mugyenyi expand from one site serving AIDS patients to 25 sites in a single year. Today, Dr. Mugyenyi's program has 35 sites - many of them in remote rural areas - that provide therapy to 35,000 Ugandans.
George W. Bush, Fact Sheet: Commemorating World AIDS Day Online by Gerhard Peters and John T. Woolley, The American Presidency Project https://www.presidency.ucsb.edu/node/283105