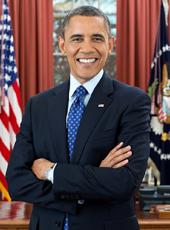 Fact Sheet: Building a Lasting Effort to End Modern Slavery
Following President Obama's March 2012 call to strengthen federal efforts to combat human trafficking, the President's Interagency Task Force to Monitor and Combat Trafficking in Persons (PITF) has convened leaders from government, the private sector, advocates, survivors, communities of faith, civil society, law enforcement, and academia to implement a coordinated agenda that helps prevent trafficking, protect victims, and prosecute offenders.
Today, Secretary of State John Kerry and other members of the PITF met at the White House to report on the progress made within four priority areas: rule of law, victim services, procurement and supply chains, and public awareness and outreach. This was the seventh and final cabinet-level meeting of the PITF during the Obama Administration.
While more work is required to tackle the root causes and consequences of human trafficking, the United States continues to be a leader in the global movement to end modern slavery. By working together, sharing information, and partnering with a broad range of organizations, the U.S. government continues to explore new and innovative approaches to end the plight of trafficking victims. The Administration has built a robust program to achieve the President's vision:
•      We have built internationally-recognized anti-trafficking training, including through the Blue Campaign, that is regularly delivered to thousands of federal employees, state and local law enforcement, U.S. embassies overseas, human trafficking task forces, a range of private sector industries, and community groups both in person and online.
•      Our diplomatic efforts in conjunction with the annual Trafficking in Persons Report have encouraged the passage, amendment, and implementation of anti-trafficking laws in scores of countries and drawn attention to global trends and emerging issues such as combating trafficking in global supply chains and increasing survivor engagement.
•      Throughout this Administration, federal law enforcement agencies have initiated over 6,000 human trafficking cases and secured over 4,000 convictions. Additionally, law enforcement investigations have identified over 2,000 victims of human trafficking – a statistic that is now available through the Victim Assistance Database, a resource that did not exist prior to December 2011. Several departments have increased resources addressing trafficking in underserved populations, including the LGBT and American Indian and Alaskan Native communities.
•      The U.S. Advisory Council on Human Trafficking, announced by the President last year, released its first annual report last week. The report contains specific policy recommendations, providing the federal government with survivor-informed analysis to combat human trafficking. The Council is comprised of 11 survivors of human trafficking and together they represent a diverse range of backgrounds and experiences.
Today, the White House is proud to announce the recipients of the 2016 Presidential Award for Extraordinary Efforts to Combat Trafficking in Persons: Students Opposing Slavery and Dr. Christopher White. Students Opposing Slavery is a student-led network committed to empowering young leaders and raising awareness about trafficking among youth – a demographic vulnerable to human trafficking. Dr. White led DARPA's research resulting in the development of Memex technologies to provide governmental entities with new capabilities to uncover and defeat human trafficking enterprises.
We are also pleased to announce the third challenge in the Partnership for Freedom competition, Pathways to Freedom, which will challenge local communities to shift practices, policies, and perceptions so that all survivors of human trafficking receive the respect, support, and opportunities they deserve. The Partnership for Freedom is a public-private partnership announced by President Obama to spur innovative solutions to problems caused by modern slavery.
Rule of Law
•      The Department of Justice continues to return record prosecution results. In FY 2016, DOJ initiated a total of 241 human trafficking prosecutions, charging 531 defendants. During FY 2016, DOJ convicted 439 defendants in human trafficking prosecutions.
•      In FY 2016, the FBI investigated 1,894 cases involving the domestic and international trafficking of adult and juvenile victims for purposes of commercial sex and forced labor. Additionally, the Department of Homeland Security initiated 1,025 human trafficking cases and identified 435 victims of human trafficking.
•      The FBI currently operates 74 Child Exploitation Task Forces and is part of over 100 task forces and working groups nationwide that collaboratively address the human trafficking threat.
•      The Justice Department also awarded $15.8 million in grant funding to the multi-disciplinary partnerships of Enhanced Collaborative Model (ECM) anti-trafficking task forces across the United States. ECM task forces are comprised of federal, state and local law enforcement, labor officials, prosecutors, victim service providers, and other allied professionals.
•      Anti-discrimination laws enforced by the Equal Employment Opportunity Commission are an integral part of the fight against trafficking. In the past year, EEOC resolved two lawsuits involving hundreds of victims of national origin discrimination and labor trafficking.
•      Justice and Homeland Security continue to collaborate with Mexican law enforcement counterparts through the U.S.-Mexico Human Trafficking Bilateral Enforcement Initiative. In June 2016, five defendants charged in the United States with operating a sex trafficking enterprise were extradited to the United States from Mexico.
•      The Intelligence Community (IC) is working on the first National Intelligence Estimate (NIE) on global human trafficking. The estimate will look at the impact of conflict and crises on human trafficking flows, as well as the drivers that increase the likelihood of trafficking. The NIE will be published during the Presidential transition period.
Victim Services
•      In FY 2016, the Department of Health and Human Services provided more than $20 million in grant funding to community-based organizations to assist victims of trafficking. Grantees served more than 2,378 victims of trafficking and family members through a network of organizations in 241 sites in 39 states. This represents a 40 percent increase in clients served from the previous year.
•      Additionally, in FY 2016, Health and Human Services certified 444 adult and 340 minor foreign national victims of trafficking to access services, almost triple the number of total victims connected to services since the beginning of the Administration.
•      In September, the Department of Justice awarded more than $49 million in funding to support anti-human trafficking initiatives and research. Through these awards, service providers are building multi-disciplinary partnerships that provide a wide range of services for survivors of trafficking, enhancing the capacity of anti-trafficking stakeholders and allied professionals through training and technical assistance, and expanding legal assistance.
•      The Departments of Labor, Health and Human Services, and Justice are collaborating to identify existing wide-ranging service programs in Miami and New York that survivors of human trafficking can access, and developing employment- and training-focused networks between victim service providers and existing resources at a local level.
•      The Department of the Interior partnered with tribal law enforcement to form the first-ever Tribal Human Trafficking Task Force. The Task Force is a partnership with tribal law enforcement and courts, the State Attorney General's Office, the United States Attorney's Office, victim service providers, and Stop Violence Against Native Women, an NGO.
•      In March 2016, the State Department issued new mandatory standards for all employees under Chief of Mission Authority who hire personal domestic workers. These regulations require additional contractual protections to help ensure those representing our country abroad adhere to standards that measure up to the bar set by the international community.
•      Immigration and Customs Enforcement updated its Continued Presence directive to make Continued Presence a two-year status in the United States for non-citizen human trafficking victims, renewable in increments of up to two years. Continued Presence is a temporary immigration status that allows trafficking victims to remain in the United States during the investigation of the crime committed against them. Extending this status to two years helps provide stability for trafficking victims while alleviating administrative burdens on victims, service providers, and the government.
Procurement and Supply Chain
•      On February 24, 2016 the President signed the Trade Facilitation and Trade Enforcement Act of 2015, which strengthened the Customs and Border Protection's (CBP) ability to prevent products made with forced labor from entering the United States. CBP has withheld the release of products from four different companies since passage of this law and established a Forced Labor Task Force.
•      Under the auspices of the Supply Unchained program, the U.S. Agency for International Development (USAID) is partnering with groups to identify patterns and those most at risk of trafficking. USAID invested in a partnership with the Blue Moon Fund to support activities designed to provide more information about challenges faced by workers on fishing vessels. The Stop Trafficking by Sea project will connect worker organizations to those working at sea, offering support services as well as gathering more information to draw a more complete picture of forced labor risk and how to combat it.
•      The State Department plans to dedicate more than $2.8 million in funding to support new programs to address human trafficking in the Southeast Asia seafood sector and expand ResponsibleSourcingTool.org to include advanced training to prevent and address forced labor in global supply chains, new resources, and additional risk-management tools for new industries beyond the seafood section.
Public Awareness and Outreach
•      In FY 2016, the Department of Homeland Security's Blue Campaign created new public awareness materials for broader audiences. New materials include "What is Human Trafficking" posters and infographics in multiple languages.
•      The Blue Campaign entered into agreements with an unprecedented number of government and nongovernmental entities to further collaborate in raising awareness and combating human trafficking, including formal partnerships with the City of Los Angeles, California Hotel and Lodging Association, San Joaquin Regional Rail Commission, D.C. Mayor's Office of Human Rights, North Dakota Public Health Association, City of Houston, and the Virginia Office of Attorney General.
•      The Department of Justice released Faces of Human Trafficking – a video series, discussion guide, fact sheets, and posters – for service providers, law enforcement, prosecutors, and other community stakeholders. The series includes information about sex and labor trafficking, multidisciplinary approaches to serving victims of human trafficking, victim services, victims' legal needs, and voices of survivors, and is available online.
•      The Department of Transportation and Homeland Security co-hosted a stakeholder event on human trafficking and implemented training for over 70,000 airline employees through the Blue Lightning Initiative. The Federal Aviation Administration reauthorization that the President signed in July 2016 includes a requirement for air carriers to train flight attendants on indicators of human trafficking and on how to report suspected human trafficking, and Transportation and Homeland Security are reaching out to carriers to encourage adoption of the program. Additionally, Transportation will continue to work with stakeholders across all modes of transportation in the Transportation Leaders Against Human Trafficking group.
•      In 2016, the Department of Education provided training to superintendents, teachers, counselors, State liaisons on homelessness, and non-governmental organizations on how trafficking relates to teaching and learning and why it is important for schools to address it. Education encouraged schools to embed trafficking in their emergency operations and management planning through the agency's technical assistance centers and an on-line community of practice. In 2017, Education will work with Health and Human Services and Justice to create training materials aimed at school staff and students.
Additional references:
President Obama Announces Members of United States Advisory Council on Human Trafficking here. (12/16/2015)
Presidential Proclamation – National Slavery and Human Trafficking Prevention Month here. (12/31/2015)
Barack Obama, Fact Sheet: Building a Lasting Effort to End Modern Slavery Online by Gerhard Peters and John T. Woolley, The American Presidency Project https://www.presidency.ucsb.edu/node/322683