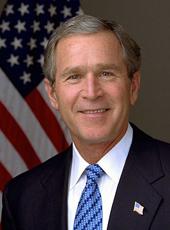 Fact Sheet: APEC 2005
"I go representing the people of this country... I go to represent the workers, as I remind our partners in the Far East that trade must be not only free, but fair. I go to represent the business people, in reminding people that there must be a strong focus on intellectual property rights throughout the world. I go to represent people who believe that we ought to be working together...at the WTO.... And so this will be a good opportunity to explain to our partners that a successful round in Doha will be good for our respective countries, our workers, our farmers, our business people. But it will also help us work together to alleviate poverty."
President George W. Bush

November 8, 2005,

Press Roundtable, Washington, D.C.
At the 13th Asia-Pacific Economic Cooperation (APEC) Leaders' Meeting, President Bush and the other leaders of APEC's 21 member economies came together to make progress on advancing free and fair trade and ensuring security in the region. This year, the leaders devoted particular attention to:

Advancing the World Trade Organization (WTO) negotiations;
Strengthening Intellectual Property Rights (IPR) protection and enforcement;
Combating the threat of avian influenza and a potential pandemic; and
Improving security for radioactive sources, civilian aviation, and trade.

President Bush and the other APEC Leaders committed to advance WTO negotiations, promote trade liberalization in the APEC region, strengthen IPR regimes, and facilitate trade and investment through the Busan Business Agenda.
President Bush reiterated his commitment to enhancing both security and prosperity in the APEC region. He and the other APEC leaders confirmed their determination to defeat terrorism and the proliferation of Weapons of Mass Destruction (WMD), protect health, promote energy security, and fight corruption.
Advancing World Trade Organization Negotiations: President Bush urged other leaders to join the United States in taking bold action to ensure an ambitious, market-opening outcome for the Doha Development Agenda, fulfilling the promise of the Doha Declaration to expand trade and lift hundreds of millions of people out of poverty. To this end, the leaders issued a stand-alone statement underscoring their commitment to achieve a successful conclusion of the Doha negotiations and their determination to provide the strong political leadership necessary to move the negotiations forward at the Hong Kong Ministerial meeting in December.
Strengthening Intellectual Property Rights: President Bush's global initiative to stop trade in pirated and counterfeit goods has intensified the commitment of APEC leaders to strengthen IPR protection and enforcement through their endorsement of the APEC Model Guidelines to reduce trade in counterfeit and pirated goods, to protect against unauthorized copies, and to prevent the sale of counterfeit goods over the internet. Leaders agreed to build further on this important work in coming years in close consultation with the private sector.
Promoting Trade Liberalization and Facilitation-The Busan Business Agenda: Leaders agreed with President Bush to take action to facilitate trade and investment, improve transparency and regulatory practices, and simplify administrative procedures. The plan of action, known as the Busan Business Agenda, contains concrete steps to achieve free and open regional trade by establishing a pro-business environment in the Asia-Pacific region. The Agenda pledges to cut transaction costs by another five percent by 2010 and to work with the APEC business community to develop an expanded work program targeting increased investment liberalization and facilitation.
Preventing an Influenza Pandemic: APEC Leaders endorsed a U.S. co-sponsored initiative on "Preparing for and Mitigating an Influenza Pandemic" to ensure that the region can better prevent, prepare for, and respond to a potential pandemic that may emerge from avian influenza. They agreed to collaborate and cooperate in a transparent and open manner, provide timely and complete reporting of avian influenza cases, undertake early implementation of the revised International Health Regulations, enhance collective APEC work to strengthen regional capacity, and support the International Partnership on Avian and Pandemic Influenza.
Enhancing Security in the Asia-Pacific Region: The United States is leading APEC efforts to enhance the security of the Asia-Pacific region. APEC Leaders endorsed U.S. initiatives to lower the threat from Man-Portable Air Defense Systems (MANPADS) and ensure the safe handling and trade of radioactive sources that could be used to make "dirty" bombs. Each APEC member committed to undertake a MANPADS Vulnerability Assessment at an international airport by the end of 2006 to identify areas for aviation security improvements, and committed to implementing the International Atomic Energy Agency Code of Conduct and the Guidance on the Import and Export of Radioactive Sources by the end of 2006. In addition, APEC members are encouraging the implementation of the APEC Framework for the Security and Facilitation of Global Trade, which will help secure and facilitate the global supply chain within the APEC region. APEC Leaders also welcomed the Regional Movement Alert List, a U.S.-Australia pilot project for an immigration alert system to identify travelers using lost or stolen passports, and encouraged work on its expansion in 2006.
Responding to Energy Supply and Demand Challenges: Leaders agreed to respond to the impact of high oil prices by taking action on important supply- and demand-side measures, including: increasing oil production and refining capabilities, maintaining oil stocks to respond to oil supply disruptions, promoting investment in the energy sector, improving the functioning of the global oil market, and promoting energy efficiency and diversification. Leaders also acknowledged that access to clean, reliable, and affordable energy requires strengthened efforts to develop and deploy advanced energy technologies, such as renewables, clean coal, and advanced nuclear power with enhanced safety features, as well as to adopt energy-efficient technologies, processes, and practices. Our new Asia-Pacific Partnership on Clean Development and Climate with Australia, China, India, Korea, and Japan is one important tool for achieving these results.
Fighting Corruption: With President Bush's leadership, APEC has come together to take strong action against corruption. Following on their bold commitments to fight corruption made last year in Santiago, Chile, APEC Leaders agreed to intensify regional cooperation to deny safe haven to officials and individuals guilty of corruption, make the implementation of principles of the United Nations Convention Against Corruption (UNCAC) a top priority, and support business leaders' commitment at this year's APEC CEO Summit to operate their corporate affairs with the highest level of integrity and sound corporate governance practices.
George W. Bush, Fact Sheet: APEC 2005 Online by Gerhard Peters and John T. Woolley, The American Presidency Project https://www.presidency.ucsb.edu/node/282981