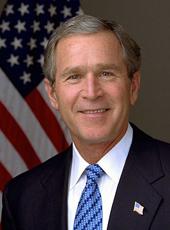 Fact Sheet: America's Compassion in Action
Presidential Action
President Bush on June 1, 2004, addressed the first White House National Conference on Faith-Based and Community Initiatives, in Washington, D.C. In his remarks, he recognized faith-based and community organizations for their compassionate efforts to help Americans most in need. Twelve regional conferences have been held at locations across the country leading up to this national conference.
The President signed an Executive Order today creating additional Centers for Faith-Based and Community Initiatives in three Federal agencies -- the Department of Commerce, the Department of Veterans Affairs, and the Small Business Administration. These three new Centers will have the same responsibilities as the other seven Centers the President has created -- in the Departments of Education, Labor (DOL), Justice, Health and Human Services (HHS), Housing and Urban Development (HUD), and Agriculture, and in the Agency for International Development (USAID) -- which all assist grassroots organizations in navigating the Federal funding process.
The President also highlighted new regulatory reforms that continue to deliver on his promise to end discrimination against faith-based and community charities and enable them to compete on a level playing field for Federal social service funds. The reforms will occur within the Department of Education, the Department of Veterans Affairs, HUD, and USAID, and will positively affect social service providers and Native American programs.
Highlights of the President's Faith-Based and Community Initiative
The Federal government does not fund religion -- instead, the President's Faith-Based and Community Initiative enables some of America's most effective social service providers to compete fairly for Federal funding to make a difference in the lives of our most vulnerable citizens without diluting the providers' religious identity. Through food banks, health centers, job training programs, drug treatment centers, and other efforts, these charities are meeting immediate and long-term needs.
Expanding Opportunities -- The Initiative has successfully tapped into the capacity of faith-based and community organizations to deliver social service programs. For example, from FY 2002 to FY 2003, HUD and HHS saw an increase of $144 million in competitive, non-formula grants to faith-based organizations (to over $1 billion total from those two agencies). During that same period, funds to first-time, faith-based grant recipients doubled at HUD to $113 million.
Building Bipartisan Support -- The President's Faith-Based and Community Initiative has received the support of a bipartisan group of governors, mayors, and Members of Congress. In the first three years of the Initiative, the President proposed new programs to harness the resources and experience of faith-based and community organizations, and Congress responded with funding for each one of them: Compassion Capital Fund (3 years of funding, totaling $112 million); the Access to Recovery drug treatment initiative ($100 million in its first year); the Mentoring Children of Prisoners initiative (2 years of funding, totaling $60 million). In his 2005 Budget, the President has proposed a four-year, $300 million Prisoner Re-entry Initiative to reduce recidivism and the societal costs of re-incarceration. The House and Senate both passed versions of the Charity Aid, Recovery, and Empowerment (CARE) Act with overwhelming bipartisan margins; the President continues to urge Congress to take final action on the CARE Act, which would create tax incentives for individual and corporate charitable giving. Finally, at the State and local levels, 20 governors (10 Democrats and 10 Republicans) and over 100 mayors now have offices or liaisons for faith-based and community organizations.
Ending Discrimination Against Faith-Based Organizations -- As a result of the President's leadership, "equal treatment" principles have been enacted to end discrimination against faith-based organizations in the Federal grants process. Discriminatory Federal regulations were reformed, and regulations protecting the religious integrity of faith-based organizations and the religious freedom of beneficiaries have been put into place. Other policy changes have removed barriers to faith-based organizations. For example, when President Bush took office, programs at FEMA and at the Department of the Interior excluded certain faith-based applicants, but with the Administration's changes, the Seattle Hebrew Academy received disaster assistance, and Old North Church in Boston, Massachusetts, and Tuoro Synagogue in Newport, Rhode Island, received historic preservation funds under the Save America's Treasures program.
Compassion in Action
Faith-based and community groups assist people in need, transforming lives with their compassion. Unfortunately, the Federal government has often been a hindrance to the work of these faith-based and community organizations. As a result of the President's leadership, significant progress has been made towards bringing more faith-based and community organizations into the Federal grants process, and the results are being seen in communities across America, including:
Long Beach, California, at Food Finders, Inc. -- This community-based food bank serves as a conduit, providing over 41,138 daily meals to the hungry in Los Angeles and Orange Counties. The food bank received a Compassion Capital Fund sub-award of $40,000 in FY 2003 through Father Joe's Villages, a faith-based intermediary organization. The funds were used to purchase a refrigerated truck in order to increase Food Finders' capacity to deliver more food. In the first 12 months after the purchase of the van, the food bank expects to be able to deliver an additional two million pounds of food, which will provide 3 meals a day for more than 3,900 hungry people.
Perth Amboy, New Jersey, at Jewish Renaissance Medical Center -- In 2002, this Center became one of the first faith-based Community Health Centers to receive Federal funds when it was awarded a two-year, $1.7 million grant from HHS to expand its Center and increase its care for the uninsured and underserved. This grant is helping the Center quadruple the number of patients it serves each year, from 5,000 to 20,000.
Charleston, West Virginia, at Hope Community Development Corporation -- With a $350,000 grant from DOL, this faith-based organization is expanding its "Work4WV Career Center Initiative," which provides job training services to unemployed and underemployed adults in Charleston. As of February 2004, together with its sub-grantees, Hope has served 404 people, including 69 ex-offenders.
Albuquerque, New Mexico, at Jewish Family Service -- This faith-based organization is the lead partner with Catholic Charities of Central New Mexico on the Stone Soup Collaborative, funded through the Compassion Capital Fund. Jewish Family Service is receiving more than $150,000 over three years to work with synagogues across the state to help them recruit, encourage, train, and organize a strong volunteer base and also develop and expand services and programs for their surrounding communities.
George W. Bush, Fact Sheet: America's Compassion in Action Online by Gerhard Peters and John T. Woolley, The American Presidency Project https://www.presidency.ucsb.edu/node/281422