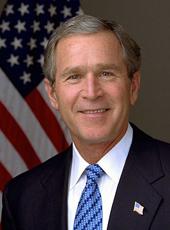 Fact Sheet: Accomplishments at the Fourth Summit of the Americas
"I've always felt that good foreign policy starts in your neighborhood. So this trip is a continuation of the United States working with different countries, and me working with leaders to have a good relationship in the neighborhood. I remember the first Summit of the Americas I went to, which was in Canada. And in the opening comments, it struck me that it's an amazing neighborhood when . . . every country is a democracy except for one."
President George W. Bush

November 1, 2005, Press Roundtable, Washington, D.C.
At the Fourth Summit of the Americas, President Bush joined the other 33 democratically elected leaders of the Western Hemisphere in addressing common 21st Century challenges. In particular, the leaders focused on:

Creating decent job opportunities, especially for the region's poor;

Creating conditions to achieve sustained economic growth through greater trade and development;

Fighting poverty; and

Strengthening democratic governance and institutions.

The President encouraged his fellow leaders to make the strategic leap from commitment to achievement, and emphasized that words must lead to tangible results.
President Bush and the United States will continue to lead and work for greater prosperity, security, and opportunity for the people of this hemisphere. At the Summit the President specifically raised the following programs for the hemisphere:
Infrastructure Facility Of The Americas: President Bush made available funds to launch a new institution to assess infrastructure project proposals from private and public sponsors. The Facility will promote high-return, job-creating projects by providing assessments and advice on: (1) engineering feasibility; (2) economic feasibility; (3) financial structure; and (4) public concession tendering, legal matters, and implementation.
United States and Uruguay Sign Bilateral Investment Treaty: The agreement demonstrates U.S. commitment to create new economic opportunities together with those countries in the hemisphere that are willing to help themselves by implementing sound economic policies. The United States is Uruguay's largest trading partner, and the stock of U.S. foreign direct investment in Uruguay was $533 million in 2004.
Central American and Caribbean Fund: The U.S. Overseas Private Investment Corporation (OPIC) will invite proposals from qualified private sector fund managers to organize a Central America and Caribbean Fund that could reach $135 million. The Fund will invest predominately in companies operating in the following countries: Barbados, Belize, Costa Rica, Dominica, Dominican Republic, El Salvador, Grenada, Guatemala, Guyana, Haiti, Honduras, Jamaica, Nicaragua, Panama, St. Lucia, and St. Vincent & the Grenadines.
Opportunity Zones: President Bush urged Heads of State to join him in developing Opportunity Zones in five to be identified countries. These programs through public and private cooperatives, encourage new business ownership opportunities, particularly for disadvantaged citizens.
Inter-American Development Bank (IDB) Reform: The President called for the shareholders of the IDB to implement measures that will better employ the bank's assets, encourage accountability and performance, and address the debt sustainability of the poorest countries in the region, including through grants and debt relief.
Private Sector Disaster Relief: The President announced that three distinguished private sector leaders -- Steven S Reinemund, Robert W. Lane and Maria Elena Lagomasino -- have agreed to launch a nationwide effort to encourage private donations for relief and reconstruction in response to the three recent hurricanes that struck Central America.
Protecting Children: President Bush announced strong American support for a significantly expanded effort over the next four years in Latin America and the Caribbean to remove children from exploitative work and provide them with educational opportunities. In support of the above goals, the United States Department of Labor has committed $16 million to continue and expand our fight against the worst forms of child labor in the Americas.
Commerce, Industry And Economy Ministerial On Competitiveness: President Bush recommended that the OAS convene the first ever joint Commerce, Industry and Economy Ministerial to bring high-level officials together to focus on competitiveness. This unprecedented meeting will identify concrete actions that governments may take alone, or in concert, to enhance the region's ability to compete more successfully in the global marketplace.
George W. Bush, Fact Sheet: Accomplishments at the Fourth Summit of the Americas Online by Gerhard Peters and John T. Woolley, The American Presidency Project https://www.presidency.ucsb.edu/node/282759