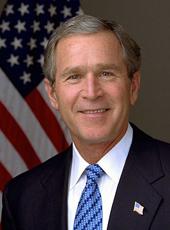 Fact Sheet: 308,000 Americans Find Work in March
Presidential Action
President Bush addressed entrepreneurs and students at Marshall University and Marshall Community and Technical College in Huntington, West Virginia, where he pointed to the growing strength of the economy and discussed his policies to create more jobs and keep America's workers the best trained and best educated in the world.
New job figures released and other recent indicators show that America's economy is strong and getting stronger, and the President's jobs and growth plan is working.
According to the payroll survey, 308,000 new jobs were created in March -- the largest monthly increase since April 2000 -- and 759,000 jobs have been added over the last 7 months.
The national unemployment rate was 5.7% in March -- far below its peak of 6.3% in June 2003, and below the average of the 1970s, 1980s, and 1990s.
Over the past year, the unemployment rate has fallen in 45 of the 50 states.
The household survey shows an increase in employment of 978,000 since August 2003.
West Virginia's unemployment rate in February was 5.4%, down from 6.4% a year earlier.
Background -- The President's Policies Are Helping West Virginia's Workers
The tax relief proposed and signed into law by President Bush was the right action at the right time for our economy. In the second half of 2003, the economy grew at the fastest rate in nearly two decades, and America has the fastest growing economy of any industrialized country in the world. Manufacturing activity is increasing. Inflation is low, and interest rates and mortgage rates are near historic lows. Homeownership rates are at the highest level ever. After-tax incomes are up by 10% since December 2000 'substantially higher than those following the last recession. And the President's tax relief agenda has resulted in significant benefits for the residents of West Virginia:
More than 570,000 taxpayers in West Virginia have seen their income tax bills reduced.
110,000 small business taxpayers in West Virginia have additional tax savings to invest in new equipment, expand facilities and hire additional workers.
More than 200,000 married couples in West Virginia are benefiting from marriage penalty relief.
Over 150,000 families in West Virginia have benefited from the increase in the child tax credit from $500 to $1,000.
West Virginia's homeownership rate was 78.1% in 2003, above the national rate of 68.3%.
The President's jobs and growth policies have put the economy on the road to recovery'there is more work to be done. The President has outlined a six-point plan to create even more job opportunities for America's workers and keep America the best place in the world to do business. The plan includes: enabling families and businesses to plan for the future with confidence by making tax reductions permanent; making health care costs more affordable and predictable; reducing the burden of lawsuits on our economy; ensuring an affordable, reliable energy supply; streamlining regulations and paperwork requirements; and opening new markets for American products and services.
America is economically stronger when we participate fully in the worldwide economy. 95% of the world's population lives outside the United States and represents a vast potential market for U.S. companies. The President's commitment to promoting free and fair trade will open new markets for American products and services, bring lower prices and more choices to American consumers, and create more higher-paying jobs for American workers.
As we recognize the benefits of free and fair trade, we also recognize that any economic change--whether arising from trade or technology--can be painful for some workers and their families. We must help these workers deal with the dislocation and acquire the skills to find good-paying jobs. The President's FY 2005 budget commits significant resources to help displaced workers find jobs, and seeks to improve high school education and strengthen post-secondary education and job training.
Job training and employment assistance: The President's FY 2005 budget proposes $23 billion for job training and employment assistance.
Jobs for the 21st Century: In addition to helping dislocated workers find employment, the President has proposed more than $500 million in his FY 2005 budget for his Jobs for the 21st Century initiative to help prepare U.S. workers to take advantage of the better skilled, higher paying jobs of the future. This includes $250 million in proposed funding targeted to community colleges to train workers for industries that are creating the most new jobs, and $33 million for expanded Pell Grants for low-income students who complete rigorous coursework in high school. The President's plan will also improve the quality of education at our Nation's high schools and better prepare students for success in higher education and the job market -- including $100 million to help striving readers and $120 million to improve math education.
America has a choice: It can continue to grow the economy and create new jobs as the President's polices are doing; or it can raise taxes on American families and small businesses, hurting economic recovery and future job creation. A pro-growth economic agenda, a strong education system, and help for American workers to gain the skills to secure good jobs are the right ways to respond to the challenges of our growing and changing economy.
George W. Bush, Fact Sheet: 308,000 Americans Find Work in March Online by Gerhard Peters and John T. Woolley, The American Presidency Project https://www.presidency.ucsb.edu/node/281958