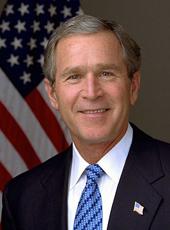 Fact Sheet: 112,000 Americans Find Work in January
Unemployment Rate Below Average Level of 1970s, 1980s and 1990s
Today's Action
New job figures released today and other recent indicators show that America's economy is strong and getting stronger, and that the President's jobs and growth plan is working. According to the payroll survey, 112,000 new jobs were created in January - the largest monthly increase since December 2000 - and 366,000 jobs have been added over the last 5 months. The national unemployment rate in January continues the steady decline from 6.3% in June 2003 - the fastest 7-month decline in nearly a decade. According to the household survey, at 5.6% the unemployment rate is below the average of the 1970s, 1980s, and 1990s.

Initial claims for unemployment insurance continue to be low and over the last month have averaged less than 350,000, a level consistent with a declining unemployment rate. With strong sales and improving profits, companies will be more likely to hire new workers in the days and months ahead. And because of the continuing effects of tax relief, workers will continue to keep more of what they earn in the future.
Background on Recent Economic Indicators
Other recently-released data reinforce that the economy is strong and growing stronger:
Real GDP grew 6.1 percent at an annual rate in the second half of 2003, the fastest 6-month growth rate in nearly 20 years.

The separate household survey showed an increase in employment of 496,000 jobs in January. The labor force increased by 422,000, and the number of unemployed fell by 74,000.

Productivity continues to fuel growth in the U.S. economy. Productivity growth from 2000 to 2003 was the fastest 3-year growth in more than 50 years.

Consumer confidence is at its highest level in 18 months, and is rising. Consumers' expectations about employment are at their highest level in nearly 20 years.

The composite index of leading indicators has increased about 3.5 percent over the last 9 months'the fastest 9-month increase in nearly 20 years.

Growth in factory orders remained solid in the fourth quarter after a very strong third quarter, and manufacturers report that increases in business activity and new orders are as widespread as at nearly any time in almost 20 years.

Businesses outside of manufacturing also report widespread increases in activity and new orders. In January, the ISM index of non-manufacturing business activity reached its highest level since the survey began in 1997.

Housing construction in 2003 was the strongest in 25 years.
The President will not be satisfied until every American looking for work has found a job. The President has outlined a six-point plan for building on the success of his jobs and growth agenda to create even more job opportunities for America's workers including: making health care costs more affordable and predictable; reducing the burden of lawsuits on our economy; ensuring an affordable, reliable energy supply; streamlining regulations and paperwork requirements; opening new markets for American products; and enabling families and businesses to plan for the future with confidence by making tax reductions permanent.
George W. Bush, Fact Sheet: 112,000 Americans Find Work in January Online by Gerhard Peters and John T. Woolley, The American Presidency Project https://www.presidency.ucsb.edu/node/281264