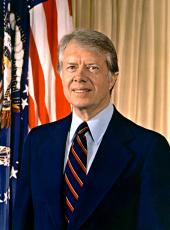 Export-Import Bank of the United States Nomination of John L. Moore, Jr., To Be President.
The President today announced that he will nominate John L. Moore, Jr., of Atlanta, Ga., to be President of the Export-Import Bank of the United States. Moore is a partner in the law firm of Alston, Miller and Gaines in Atlanta, Ga.
Moore was born in West Palm Beach, Fla., on August 24, 1929. He received an A.B. magna cum laude from Harvard College in 1951. He attended Balliol College on a Rhodes Scholarship and received a B. Litt. in 1953. He received an LL.B. degree magna cure laude from Harvard Law School in 1956, serving as vice president of the Harvard Legal Aid Bureau in 1955-56.
Moore has been with Alston, Miller and Gaines since 1956, as an associate until 1961, and as a partner since that time. His areas of practice are corporate finance, real estate finance, and tax and securities law.
Moore served as a lecturer in forensic psychiatry at Emory University Medical School from 1961 to 1971, and as a lecturer in law and medicine at Emory University Law School from 1961 to 1965. He has also taught corporate law at Woodrow Wilson College of Law.
He served as a member and secretary .of the Governor's Advisory Committee on Mental Institutions (Georgia) from 1959 to 1963, and as chairman of the Citizens' Committee on Mental Health in 1965 and 1973. In 1971 he was chairman of the Georgia Commission on Mental Health and cochairman of the Citizens' Task Force on Health.
Moore serves as secretary for the Georgia and district III selection committees for Rhodes Scholarships, director of the Georgia Association for Pastoral Care, and director and vice president of Community Friendship, Inc.
Moore helped to prepare the guidelines on conflict of interest and financial disclosure during the Carter-Mondale transition and has continued to work on the guidelines since the Carter administration has taken office.
Jimmy Carter, Export-Import Bank of the United States Nomination of John L. Moore, Jr., To Be President. Online by Gerhard Peters and John T. Woolley, The American Presidency Project https://www.presidency.ucsb.edu/node/243500