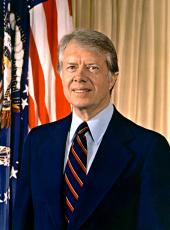 Export-Import Bank of the United States Nomination of H. K. Allen To Be First Vice President.
The President today announced his intention to nominate H. K. Allen, of Temple, Tex., to be First Vice President of the Export-Import Bank of the United States. He will succeed Delio E. Gianturco, resigned.
Allen was born July 24, 1926, in Dallas, Tex. He is a graduate of the University of Texas and holds B.S., B.B.A., and LL.B. degrees. From 1944 to 1946, Allen was in the Navy Flight Officers Training program. In 1951 he was recalled to active duty and served 19 months sea duty.
After an honorable discharge, he returned to Temple where he entered the banking business. Since 1953 he has been chairman of Temple National Bank. Allen is chairman of the Farmers & Merchants State Bank, Ballinger, Tex., and also the chairman of the First State Bank, Rogers, Tex. He is a member of the board of directors of the American Founders Life Insurance Co., Austin, Tex.
Jimmy Carter, Export-Import Bank of the United States Nomination of H. K. Allen To Be First Vice President. Online by Gerhard Peters and John T. Woolley, The American Presidency Project https://www.presidency.ucsb.edu/node/243013