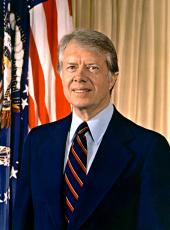 Explosion at a Titan Missile Site in Arkansas Remarks to Reporters on the Incident.
THE PRESIDENT. Concerning the Titan missile explosion, I have stayed in close contact all throughout the morning with the Secretary of Defense. We deeply regret the casualties from the explosion. The situation is under control. There is no indication of radioactivity at all. The crews have performed superbly and with courage. I have asked Secretary Brown to give me a complete evaluation of the cause of the accident and also the Titan missile sites throughout the country, to make sure there is no repetition of this accident.

Those are the comments that I have.
Q. Mr. President, are the Titan missiles a part of our—are they a useful part of the Triad now, or are they possibly defective?
THE PRESIDENT. These missiles are the oldest part of our Triad, as you know. We have now 52 or 53 missiles of the Titan class still in stand-by for use if necessary. They are an integral part of the Triad.
Q. Are they too old, Mr. President; should they be replaced with solid-fuel rockets?
THE PRESIDENT. Well, obviously we are getting ready to move into the MX missile program, which is a solid-fuel rocket, and of course, the Minuteman are solidfuel rockets as well. But the Titans still serve a useful deterrent purpose. But we have been aware of the fact that they are older missiles, and through a normal evolutionary process they will be replaced with a new missile.
Q. What were the odds on a nuclear disaster in a situation like that?
THE PRESIDENT. Extremely low. As I say, we've monitored the site very carefully. There is no indication of radioactivity at all.
Q. Has the warhead been removed?
THE PRESIDENT. The—everything is safe.
Note: The President spoke at 2:07 p.m. at the South Portico at the White House.
Jimmy Carter, Explosion at a Titan Missile Site in Arkansas Remarks to Reporters on the Incident. Online by Gerhard Peters and John T. Woolley, The American Presidency Project https://www.presidency.ucsb.edu/node/251360