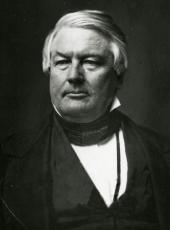 Executive Order—Reserving From Sale for Public Purposes Certain Lands in the Bay of San Francisco, California
Chief Clerk.
General Land Office,
June 24th, 1851.
Sir: I have to inform you that the President of the United States exempts and reserves from sale for public purposes, the following tracts or parcels of land, in the State of California:
In the Bay of San Francisco, Cala.:
1st. From a point eight hundred yards south of Point Jose to the southern boundary of the Presidio, along the southern boundary of its western extremity, and thence in a straight line to the Pacific Ocean, passing by the southern extremity of a pond that has its outlet into the channel between Fort Point and Point Lobos.
2d. From the southern boundary of Sau Solito [Saucelito] Bay, a line parallel to the channel of entrance to the Pacific.
3d. Yerba Buena Island.
4th. Alcatrazes Island.
5th. Angel Island. On the eastern side of the Bay of San Pueblo:
6th. Mare Island.
7th. The land on the eastern side of Mare Island Straits, beginning at the high hills between these straits and the City of Benicia, about 2,000 to 2,500 yards from the former, and extending in a line nearly parallel to it, to a point opposite the northern extremity of Mare Island, and thence to the straits so as so join them at a point about eight hundred yards north of the northernmost high hills on the eastern side of the straits.
MILLARD FILLMORE.
Washington, November 6th, 1850.
I am, very respectfully, Your ob't serv't,
J. BUTTERFIELD,
Commissioner.
Sam'l D. King, Esq.
     Surveyor General, San Jose, Cala.
Millard Fillmore, Executive Order—Reserving From Sale for Public Purposes Certain Lands in the Bay of San Francisco, California Online by Gerhard Peters and John T. Woolley, The American Presidency Project https://www.presidency.ucsb.edu/node/349841