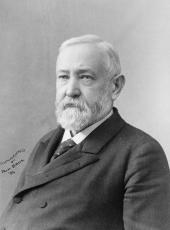 Executive Order—Amendments of Civil Service Rules
Departmental Rule VII is hereby amended by adding thereto the following section, to be numbered 7:
7. In case of temporary absence, from sickness or other unavoidable cause, of clerks, copyists, or employees of other grades for which examinations are held, there may be certified in the manner provided for in this rule, and employed under such regulations as the heads of the several Departments shall prescribe, substitutes for such clerks, copyists, or other employees so absent; and such substitutes so employed in any Department shall be appointed in the order of their employment as substitutes to the regular grades of that Department without further certification as vacancies to which they are eligible may occur therein while so employed as substitutes, every such appointment to be at once reported to the Commission: Provided , That no person while employed as a substitute in one Department shall be certified as a substitute to any other Department, and that no person employed as a substitute shall by reason of such employment be deprived of any right of certification for a regular place to which he may be entitled under the rules: And provided further, That service rendered as a substitute shall not be ground for reinstatement under Departmental Rule X. The time during which any substitute who shall be appointed to a regular place is actually employed as such shall be counted as a part of his period of probation. No substitute shall be employed in any Department otherwise than as herein provided.
Special Departmental Rule No. 2 is hereby revoked.
BENJ. HARRISON
Benjamin Harrison, Executive Order—Amendments of Civil Service Rules Online by Gerhard Peters and John T. Woolley, The American Presidency Project https://www.presidency.ucsb.edu/node/205279