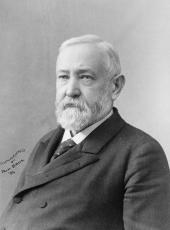 Executive Order—Amendments of Civil Service Rules
Section 2 of Railway Mail Rule IV is hereby amended by substituting for clause (b) of said section the following:
(b) The Commission shall certify from the register of the State or Territory in which the vacancy exists the names of the three eligibles thereon having the highest averages, resident in the countries of said State or Territory through or on the borders of which the section of the road passes on which the person to be appointed is to serve, who have not been three times certified: Provided , That if there are not three eligibles resident in said counties, then certification shall be made in like manner from the counties of said State or Territory nearest to the line of said road in which there are three eligibles; or if there are not three eligibles upon the register of said State of Territory, then certification may be made from the register of any adjoining State or Territory: Provided further, That if upon the register of the State or Territory in which vacancy exists there are the names of eligibles having a claim of preference under section 1754, Revised Statutes, the names of such eligibles shall be certified before the names of other eligibles of higher grade.
At the end of the rule add an additional section, as follows:
7. In case of public and pressing exigency demanding the immediate employment of experienced railway mail clerks who can not be at once supplied in the manner provided for in section 2 of this rule, or by transfer under Rule V, or reappointment under Rule VI, there may be employed, without examination or certification, under such regulations as the Postmaster-General may prescribe, for a period not to exceed thirty days, which, with the consent of the Commission, may be extended to sixty days, any persons who have been in the railway mail service, who have the requisite knowledge and experience, who may be available. Every such employment and the reasons therefor shall be at once reported to the Commission.
Approved, November 1, 1889.
BENJ. HARRISON
Benjamin Harrison, Executive Order—Amendments of Civil Service Rules Online by Gerhard Peters and John T. Woolley, The American Presidency Project https://www.presidency.ucsb.edu/node/205116