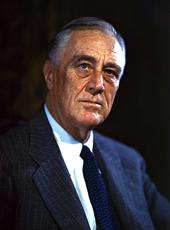 Executive Order 9080—Joint Mexican-United States Defense Commission
By virtue of the authority vested in me by the Constitution and as President of the United States, and acting jointly and in full accord with His Excellency, the President of the Republic of Mexico, I hereby authorize, on the part of the Government of the United States, the creation of a joint commission to be known as the Joint Mexican-United States Defense Commission.
The purposes of the Commission shall be to study problems relating to the common defense of the United States and Mexico, to consider broad plans for the defense of Mexico and adjacent areas of the United States, and to propose to the respective governments the cooperative measures which, in its opinion should be adopted.
The United States membership of the Commission shall consist of an Army member, a Navy member, an Air Force member, and a Marine Corps member, each of whom shall be designated by the Secretary of Defense and serve during the pleasure of the Secretary. The Secretary shall designate from among the United States members the chairman thereof and may designate alternate United States members of the Commission.
The Commission will convene initially at a time and place agreeable to both governments, and may thereafter proceed at any time with its professional and clerical assistants to such place or places in Mexico, with the approval of the Government of Mexico, or in the United States as it may consider desirable or necessary to visit for the accomplishment or its purposes.
The United States members of the Commission, in agreement with their Mexican colleagues, may prescribe their own procedure. They are also empowered to employ such professional and clerical assistants as may be deemed necessary, and to incur such expenses for travel, services, supplies, and other purposes as may be required for the accomplishment of their mission.
Each of the United States members of the Commission and each of their professional assistants, including civilian advisers and any United States Army, Navy, or Marine Corps officers so employed, detailed, or assigned, shall receive, in lieu of subsistence while outside of the continental limits of the United States in connection with the business of the Commission, a per diem allowance of ten dollars.
All expenses incurred by the United States Section of the Commission shall be paid by Army disbursing officers from allocations to be made to the War Department for that purpose from the Emergency Fund for the President.
[Third paragraph revised by EO 12377 of Aug. 6, 1982, 47 FR 34509, 3 CFR, 1982 Comp., p. 203]
Franklin D. Roosevelt, Executive Order 9080—Joint Mexican-United States Defense Commission Online by Gerhard Peters and John T. Woolley, The American Presidency Project https://www.presidency.ucsb.edu/node/210150