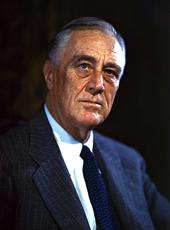 Executive Order 7086—Establishing the National Youth Administration
By virtue of and pursuant to the authority vested in me by the' Emergency Relief Appropriation Act of. 1935, approved April 8, 1935 (Public Resolution No. 11, 74th Congress), I hereby establish the National Youth Administration, to be within the Works Progress Administration established under Executive Order No. 7034 of May 6, 1935.
There shall be a National Advisory Committee and an Executive Committee for the National Youth Administration. The members of said National Advisory Committee shall be representatives of labor, business, agriculture, education, and youth, to be appointed by the President ....
The National Youth Administration shall be under the general supervision of the Administrator of the Works Progress Administration and under the immediate supervision of an Executive Director. I hereby appoint Aubrey W. Williams as Executive Director thereof to serve without additional compensation. The said Executive Director shall also be a member of the Advisory Committee on Allotments, established under said Executive Order No. 7034 of May 6, 1935.
I hereby prescribe the following functions and duties of the National Youth Administration:
To initiate and administer a program of approved projects which shall provide relief, work relief, and employment for persons between the ages of sixteen and twenty-five years who are no longer in regular attendance at a school requiring full time, and who are not regularly engaged in remunerative employment.
In the performance of such duties and functions . . . the Executive Director is hereby authorized to accept and utilize such voluntary and uncompensated services and, with the consent of the State, the services of such State and local officers and employees, and appoint, without regard to the provisions of civil service laws, such officers and employees, as may be necessary and prescribe the duties and responsibilities and, without regard to the Classification Act of 1923, as amended, fix the compensation of any officers and employees so appointed; Provided, That, in so far as practicable, the persons employed under the authority of this Executive Order shall be selected from those receiving relief.
Allocations will be made hereafter for administrative expenses and for authorized projects.
Franklin D. Roosevelt, Executive Order 7086—Establishing the National Youth Administration Online by Gerhard Peters and John T. Woolley, The American Presidency Project https://www.presidency.ucsb.edu/node/208892