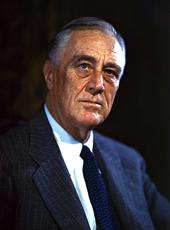 Executive Order 7064 Continuing the Powers of the Administrator of Public Works under N.I.R.A.
Pursuant to the authority vested in me by the Emergency Relief Appropriation Act of 1935, approved April 8, 1935 (Public Resolution No. 11, 74th Congress), I hereby authorize the Federal Emergency Administration of Public Works, under the Federal Emergency Administrator of Public Works:
(a) to continue after June 16, 1935, to perform all of the functions which it was authorized to perform prior to June 16, 1935, under Title II of the National Industrial Recovery Act, approved June 16, 1933 (48 Stat. 300);
(b) subject to the rules and regulations heretofore and hereafter prescribed by the President to carry out the Emergency Relief Appropriation Act of 1935, approved April 8, 1935, to perform the following functions under said Act:
(1) make loans or grants, or both, for projects of States, territories, possessions, including subdivisions and agencies thereof, municipalities and the District of Columbia, and self-liquidating projects of public bodies thereof, where, in the determination of the President, not less than twenty-five per centum of the loan or the grant, or the aggregate thereof, is to be expended for work under each particular project;
(2) carry out projects for slum-clearance or low-cost housing, or both. . . .
In the performance of the functions and duties herein prescribed . . . I hereby authorize the Administrator to accept and utilize such voluntary and uncompensated services and, with the consent of the State, such State and local officers and employees, and appoint, without regard to the provisions of the civil service laws, such officers and employees, as may be necessary, prescribe their duties and responsibilities and, without regard to the Classification Act of 1923, as amended, fix their compensation: Provided, That in so far as practicable, the persons employed shall be selected from those receiving relief. . . .
Franklin D. Roosevelt, Executive Order 7064 Continuing the Powers of the Administrator of Public Works under N.I.R.A. Online by Gerhard Peters and John T. Woolley, The American Presidency Project https://www.presidency.ucsb.edu/node/208777