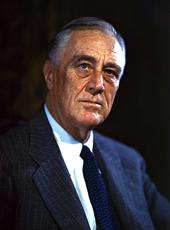 Executive Order 6910—Withdrawal of Public Lands for Conservation
Whereas, the Act of June 28, 1934 (ch. 865, 48 Stat. 1269), provides, among other things, for the prevention of injury to the public grazing lands by overgrazing and soil deterioration; provides for the orderly use, improvement and development of such lands; and provides for the stabilization of the livestock industry dependent upon the public range; and
Whereas, in furtherance of its purposes, said Act provides for the creation of grazing districts to include an aggregate area of not more than eighty million acres of vacant, unreserved and unappropriated lands from any part of the public domain of the United States; provides for the exchange of State owned and privately owned lands for unreserved, surveyed public lands of the United States; provides for the sale of isolated or disconnected tracts of the public domain; and provides for the leasing for grazing purposes of isolated or disconnected tracts of vacant, unreserved and unappropriated lands of the public domain; and
Whereas, said Act provides that the President of the United States may order that unappropriated public lands be placed under national-forest administration if, in his opinion, the land be best adapted thereto; and
Whereas, said Act provides for the use of public land for the conservation or propagation of wild life; and
Whereas, I find and declare that it is necessary to classify all of the vacant, unreserved and unappropriated lands of the public domain within certain States for the purpose of effective administration of the provisions of said Act;
Now, Therefore, by virtue of and pursuant to the authority vested in me by the Act of June 25, 1910 (ch. 421, 36 Stat. 847), as amended by the Act of August 24, 1912 (ch. 369, 37 Stat. 497), and subject to the conditions therein expressed, it is ordered that all of the vacant, unreserved and unappropriated public land in the States of Arizona, California, Colorado, Idaho, Montana, Nevada, New Mexico, North Dakota, Oregon, South Dakota, Utah and Wyoming be, and it hereby is, temporarily withdrawn from settlement, location, sale or entry, and reserved for classification, and pending determination of the most useful purpose to which such land may be put in consideration of the provisions of said Act of June 28, 1934, and for conservation and development of natural resources.
The withdrawal hereby effected is subject to existing rights.
This order shall continue in full force and effect unless and until revoked by the President or by act of Congress.


FRANKLIN D. ROOSEVELT
The White House,
November 26, 1934.
Franklin D. Roosevelt, Executive Order 6910—Withdrawal of Public Lands for Conservation Online by Gerhard Peters and John T. Woolley, The American Presidency Project https://www.presidency.ucsb.edu/node/208259