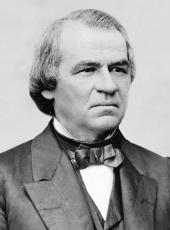 Executive Order
Whereas the Attorney-General of the United States hath given his opinion that the persons implicated in the murder of the late President, Abraham Lincoln, and the attempted assassination of the Hon. William H. Seward, Secretary of State, and in an alleged conspiracy to assassinate other officers of the Federal Government at Washington City, and their aiders and abettors, are subject to the jurisdiction of and lawfully triable before a military commission--
It is ordered:
First. That the assistant adjutant-general detail nine competent military officers to serve as a commission for the trial of said parties, and that the Judge-Advocate-General proceed to prefer charges against said parties for their alleged offenses and bring them to trial before said military commission; that said trial or trials be conducted by the said Judge-Advocate-General, and as recorder thereof, in person, aided by such assistant or special judge-advocate as he may designate, and that said trials be conducted with all diligence consistent with the ends of justice; the said commission to sit without regard to hours.
Second. That Brevet Major-General Hartranft be assigned to duty as special provost-marshal-general for the purpose of said trial, and attendance upon said commission, and the execution of its mandates.
Third. That the said commission establish such order or rules of proceeding as may avoid unnecessary delay and conduce to the ends of public justice.
ANDREW JOHNSON
Official copy:
W.A. NICHOLS,
Assistant Adjutant-General .
Andrew Johnson, Executive Order Online by Gerhard Peters and John T. Woolley, The American Presidency Project https://www.presidency.ucsb.edu/node/203089