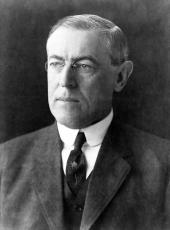 Executive Order 2778—Relating to Indians on Public Domain
It is hereby ordered, under authority found in the act of June twenty-first, nineteen hundred and six (Thirty-fourth Statutes at Large, pages three hundred and twenty-five and three hundred and twenty-six), that the trust or other period of restriction against alienation contained in any patent issued to any Indian for any lands on the public domain be, and the same is hereby, extended for a further period of one year in all cases where such trust or other restrictive period against alienation would otherwise expire during the calendar year nineteen hundred and eighteen, excepting only in the following specific instances:
Name of patentee. Number. Land office.
Julia Blake 21 Missoula, Montana.
John Blake 22 Do.
Annie Blake 23 Do.
Eddie Blake 24 Do.
Bertha Blake 25 Do.
Sophia Lacey 35 Helena, Montana.
Wm. Lacey 36 Do.
John Lacey 37 Do.
Fannie Belle Blevins 38 Do.
Albert Lacey 62 Do.
Nellie Lillard 54 Do.
John Lillard 55 Do.
Joseph Lillard 56 Do.
Cora Lillard 57 Do.
Name of patentee. Number. Land office.
Isaac Shepherd 70 Helena, Montana.
Chas. Smith 81 Do.
James Smith 84 Do.
Helen Wells 88 Do.
Marie Thomas 89 Do.
Walter Buckland 4 Do.
William Buckland 6 Do.
William W. Samples 43 Do.
Michael Lillard (decd.) 58 Do.
Chas. Shepherd 69 Do.
Elizabeth Shepherd (decd.) 71 Do.
James Lacey 31 Do.
John Shepherd (decd.) 73 Do.
Maggie Wetzel (decd.) 93 Do.
Nicholas Pambrun 94 Do.
Julia Pambrun 95 Do.
Adelaide Thomas 105 Do.
John Smith 108 Do.
Mary Jolebois, nee Landry 3 Devils Lake, N. Dak.
Martin Spedis 10 Vancouver, Wash.
Mary Wilwyitit (decd.) 11 Do.
Louis Sampson 22 Do.
Jennie Tichenor (decd.) 73 Roseburg, Oregon.
Joe Bohatch 1 Visalia, Calif.
Tom (decd.) 3 Do.
Turner Jack (decd.) 4 Do.
Polecat (decd.) 5 Do.
James Crossmore (decd.) Homestead Do.
No. 512.
WOODROW WILSON
The White House,
December 31, 1917
Woodrow Wilson, Executive Order 2778—Relating to Indians on Public Domain Online by Gerhard Peters and John T. Woolley, The American Presidency Project https://www.presidency.ucsb.edu/node/276640