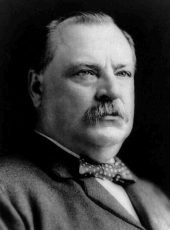 Executive Order
Whereas in an Executive order dated the 21st day of July, 1875, directing the distribution of the fund of 400,000 pesetas received from the Spanish Government in satisfaction of the reclamation of the United States arising from the capture of the Virginius , it was provided "that should any further order or direction be required the same will hereafter be made in addition hereto;" and
Whereas a further order or direction is deemed necessary:
Now, therefore, I, Grover Cleveland, President of the United States, do hereby direct that all persons entitled to the benefit of any of the aforesaid fund of 400,000 pesetas who have not yet presented their claims thereto shall formulate and present their claims to the Secretary of State of the United States within six months from the date of this order, or be held as forever barred from the benefits of said fund.
And I hereby further direct that the balance of the fund which shall remain unclaimed at the expiration of the aforesaid period of six months shall be distributed pro rata among the beneficiaries under the original distribution, provided they or their heirs or representatives shall within the six months next succeeding the said former period present to the Secretary of State of the United States petitions for their shares of said balance.
And to these ends the Secretary of State is requested to cause public notice to be given of the above direction.
In witness whereof I have hereunto set my hand, at the city of Washington, this 12th day of December, A. D. 1885, and of the Independence of the United States of America the one hundred and tenth.
GROVER CLEVELAND
Grover Cleveland, Executive Order Online by Gerhard Peters and John T. Woolley, The American Presidency Project https://www.presidency.ucsb.edu/node/204891