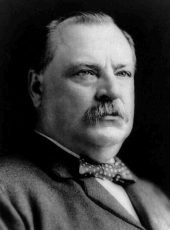 Executive Order
Whereas, by a provision of the act of Congress entitled "An act making appropriations for sundry civil expenses of the Government for the fiscal year ending June 30, 1886, and for other purposes," approved March 3, 1885, for the suppression of epidemic diseases, the President of the United States is authorized, in case of threatened or actual epidemic of cholera or yellow fever, to use certain appropriated sums, made immediately available, "in aid of State and local boards or otherwise, in his discretion, in preventing and suppressing the spread of the same and for maintaining quarantine and maritime inspections at points of danger;" and
Whereas there is imminent danger of a recurrence of a cholera epidemic in Europe, which may be brought to our shores unless adequate measures of international or local quarantine inspections are taken in season, which measures of preventive inspection are proper subjects to be considered, to the end that their efficiency in divers countries may be secured:
Now, therefore, in virtue of the discretionary authority conferred upon me by the aforesaid act of Congress, I hereby designate and appoint Dr. E. O. Shakespeare, M.D., of Pennsylvania, as a representative of the Government of the United States, to proceed, under the directions of the Secretary of State, to Spain and such other countries in Europe where the cholera exists, and make investigation of the causes, progress, and proper prevention and cure of the said diseases, in order that a full report may be made of them to Congress during the next ensuing session; and I direct that the reasonable and necessary expenses of travel and sojourn of the said E. O. Shakespeare in proceeding from Washington to Spain and elsewhere in Europe as he may find it absolutely necessary to go in pursuit of the desired information, and in returning to Washington at the conclusion of his labors, be adjusted and paid from the appropriation available under the aforesaid act of March 3, 1885, upon his statement of account approved by the Secretary of State.
Done at the city of Washington, this 1st day of October, 1885, and of the Independence of the United States the one hundred and tenth.
GROVER CLEVELAND
By the President:
T. F. BAYARD, Secretary of State.
Grover Cleveland, Executive Order Online by Gerhard Peters and John T. Woolley, The American Presidency Project https://www.presidency.ucsb.edu/node/204887