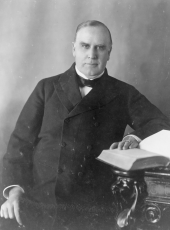 Executive Order
To the Secretary of War:
SIR: -- Pending the cessation of conditions requiring a continuance of Military Government in the Philippine Islands, you are authorized to make the following order:
On and after the 4th day of July, 1901 until it shall otherwise be ordered, the President of the Philippine Commission will exercise the Executive Authority in all civil affairs of the Government in the Philippine Islands, heretofore exercised in such affairs by the Military Governor of the Philippines, and to that end, the Hon. W. H. Taft, President of the said Commission is hereby appointed Civil Governor of the Philippine Islands. Such executive authority will be exercised under and in conformity to the instructions to the Philippine Commissioners dated April 7th, 1900, and subject to the approval and control of the Secretary of War of the United States. The municipal and Provincial Civil Governments will then, or shall hereafter be established in said Islands and all persons performing duties pertaining to the offices of Civil Government in said Islands will, in respect of such duties report to the said Civil Government. The power to appoint Civil Officers, heretofore vested in the Philippine Commission or in the Military Government will be exercised by the Civil Governor with the advice and consent of the Commissioners.
The Military Governor of the Philippines is hereby relieved from the performance on and after the said fourth day of July of the Civil duties hereinbefore described, but his authority will continue to be exercised as heretofore in those districts in which insurrection against the authority of the United States continues to exist or in which public order is not sufficiently restored to enable the Provincial Civil Government to be established under the instructions to the Commission dated April 7th, 1900.
WILLIAM MCKINLEY
William McKinley, Executive Order Online by Gerhard Peters and John T. Woolley, The American Presidency Project https://www.presidency.ucsb.edu/node/205646