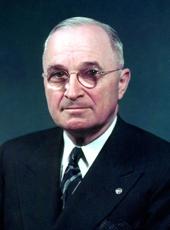 Executive Order 10171—Transferring Occupation Functions in Austria to the Department of State
By virtue of the authority vested in me by the Constitution and the Statutes, including Title Ii of Chapter XI of the General Appropriation Act, 1951 (Public Law 759, 81st Congress), and as President of the United States and Commander in Chief of the armed forces of the United States, it is hereby ordered as follows:
1. There are hereby vested in the Department of State, except as hereinafter provided the responsibilities and obligations of the United States in connection with the occupation of Austria, including the controls defined in the Agreement on the Machinery of Control in Austria dated June 28, 1946. There are transferred to the Department of State such unobligated balances of the appropriation for Government and Relief in Occupied Areas for the Fiscal Year ending June 30, 1951 and such property, including records, as the Director of the Bureau of the Budget shall determine to relate primarily to the functions herein transferred.
2. The United States High Commissioner for Austria shall continue to be the supreme United States authority in Austria, shall be the Chief of the United States diplomatic mission, and shall be responsible, under the immediate supervision of the Secretary of State, for the total governmental program of the United States in Austria, including representation of the United States in the Allied Commission for Austria: Provided, That (1) with respect to military matters as mutually defined by the Department of State and the Department of Defense the Commanding General, United States Forces in Austria, shall continue to receive instructions directly from the joint Chiefs of Staff, and (2) the chief of the special mission of the Economic Cooperation Administration and his staff shall function in relation to the High Commissioner as described in section 109(b) of the Economic Cooperation Act of 1948 (Public Law 472, 80th Congress), as amended.
3. On request of the High Commissioner, or in accordance with his instructions from the Joint Chiefs of Staff in respect of military matters, the Commanding General shall take all necessary measures to protect United States interests in Austria and whatever action may be considered essential to preserve law and order and safeguard the security of United States troops and personnel.
4. Except as stated above, all representatives of the United States Government in Austria are under the authority of the High Commissioner, who will facilitate the work of United States agencies in Austria and will assist them in their relations with representatives of the Austrian Government, all such relations being subject to his jurisdiction and discretion.
5. This order shall become effective on October 16, 1950.
HARRY S. TRUMAN

THE WHITE HOUSE,

October 12, 1950
Harry S. Truman, Executive Order 10171—Transferring Occupation Functions in Austria to the Department of State Online by Gerhard Peters and John T. Woolley, The American Presidency Project https://www.presidency.ucsb.edu/node/279040