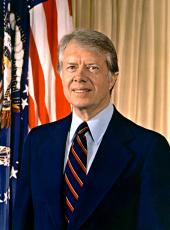 Executive Committee on Reorganization Appointment of the Members of the Committee and Richard A. Pettigrew as Assistant to the President for Reorganization.
The President today announced the membership of the Executive Committee on Reorganization, the top-level working group on executive branch reorganization announced in his reorganization plan on April 6, 1977.
He also announced the appointment of Richard A. Pettigrew, of Dade County, Fla., to serve as Assistant to the President for Reorganization.
The Executive Committee on Reorganization, to be chaired by the President, will include the Vice President, OMB Director Bert Lance, Mr. Pettigrew, Civil Service Commission Chairman Alan Campbell, and Council of Economic Advisers Chairman Charles L. Schultze.
The Committee will advise the President on all aspects of the reorganization effort, including study priorities and final recommendations. It will review recommendations developed by the Reorganization Project Staff for streamlining the executive branch.
Pettigrew, who will also serve as the Committee's administrative officer, will be responsible for assisting the President in the overall executive reorganization process. He will have primary responsibility for developing mechanisms to enlist public involvement in reorganization, and will analyze citizens' problems in dealing with the executive branch to see how reorganization can help to alleviate them.
An attorney, Pettigrew served in the Florida House of Representatives from 1963 to 1972. Appointed to the Constitutional Review Commission in 1965, he was a leader in the State's 3-year effort to draft and adopt a new constitution. As chairman of the Government Organization and Efficiency Committee, he was an architect in Florida's executive branch reorganization in 1969.
Pettigrew served as Speaker of the Florida House from 1970 to 1972. He was elected to the Florida State Senate in 1972, where he served as chairman of the Criminal Justice Committee. He resigned in 1974 to run for the U.S. Senate.
He was born on June 10, 1930, in Charleston, W. Va., moving to Florida that .same year. He received his B.A. (1953) and J.D. (1957) from the University of Florida. From 1953 to 1955, he was an officer in the U.S. Air Force, serving in Korea and Japan.
Jimmy Carter, Executive Committee on Reorganization Appointment of the Members of the Committee and Richard A. Pettigrew as Assistant to the President for Reorganization. Online by Gerhard Peters and John T. Woolley, The American Presidency Project https://www.presidency.ucsb.edu/node/243372