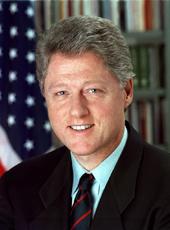 Exchange With Reporters at Yale University in New Haven
Somalia
Q. [Inaudible]—with General Aideed?
Q. [Inaudible]—offering a cease-fire?
The President. We haven't offered a ceasefire. I expect it, that there would be a cessation of violence against the United States and the U.N. forces when I made it clear what I said at the U.N., that we wanted to support a political process in Somalia that would permit the termination of our involvement and when I made it clear I was going to send stronger forces there to reinforce our position. But there's been no direct communication. In fact, Ambassador Oakley went there to meet with President Meles and other leaders of the African nations in the region and to try to work out a political process that they would manage. We believe that over the long run, the only way that Somalians can live in peace with one another is if their neighbors work out an African solution to an African problem. So, that's just not true. We didn't extend an offer of a cease-fire. And there's been no direct negotiations of any kind.
Q. [Inaudible]—apparently he is offering one now.
The President. Well, if he's offering one, that's fine. He ought to stop the violence, because that's a good thing. He ought to do it. But it's not accurate to say that we have initiated it. But I welcome it. I think that he should stop the violence. And I want Ambassador Oakley to have a chance to go over there and meet with President Meles and others. And let's see what kind of political process that the African leaders themselves can get going.
Q. [Inaudible]—part of these negotiations, sir, or are you trying to cut them out of it?
The President. No, I didn't say that. As a matter of fact, I think the Secretary-General is going to the region just in the next couple of days, which I would welcome. So that's up to him to decide. I wouldn't say that at all. But all the nations that are there on the humanitarian mission have supported in varying degrees the idea that we didn't want to go there for nothing. We didn't want to go there, pull out, and have chaos, anarchy, starvation return.
But I think it's clear to all of us who have been involved in this that the greatest likelihood of a successful political resolution of this would be if the African leaders of the adjoining states took the initiative and they tried to work out a solution which reflected what is possible and what is desirable as they define it. And I don't think we ought to be defining it for them. I have never been for——
Q. [Inaudible]—your instructions been to Oakley?
The President. My instructions to Oakley were to go first to meet with President Meles, decide whether there are any other presidents of other countries in the region he needs to meet with, discuss what the role for the OAU or some other African role might be, and see what can best be done to start, really generate a lot of energy behind the political process. We think that ultimately whatever peace would be brokered, if it's brokered from forces outside Somalia, should come from the Africans. And we would hope the U.N. would be able to bless——
Q. [Inaudible]—prospects for the release of Chief Warrant Officer Durant? Is there any report there?
The President. Well, we're obviously encouraged by the fact that he seems to be in reasonably good shape. And we expect that he will be released. I can't give you any other specific comments now. I am very hopeful that there will be no Americans in captivity anytime soon.
Q. [Inaudible]—make a deal for his release?
The President. [Inaudible]—and I expect that that's what the rules will be. But there has been no negotiations over that at all, none.
Q. [Inaudible]—can't say anything now—is there some sort of sensitive process ongoing now—the process——
The President. No, I wouldn't characterize it in that way. It's just that I believe that I think that any Americans who are held captive must be released. I think they know the United States has no intention of leaving Somalia until that is done. We're going to have all of our people present and accounted for before we go home. And that's just going to be a part of whatever happens from now on in. It is the priority that we have to pursue and for our own people.
But I'm encouraged that Mr. Oakley was welcomed there by President Meles. And I'm encouraged by President—I mean, by the Secretary-General wanting to go to the region. So I think that the peace process sort of got derailed over the last several months. I think it's going to get back in gear. And I think that's a good thing for everybody.
NOTE: The exchange began at 4:30 p.m. at the Rotunda in Woolsey Hall. In his remarks, the President referred to Ambassador Robert B. Oakley, special envoy to Somalia; President Zenawi Meles of Ethiopia; U.N. Secretary-General Boutros Boutros-Ghali; and captured U.S. Army pilot Michael Durant. A tape was not available for verification of the content of this exchange.
William J. Clinton, Exchange With Reporters at Yale University in New Haven Online by Gerhard Peters and John T. Woolley, The American Presidency Project https://www.presidency.ucsb.edu/node/218487