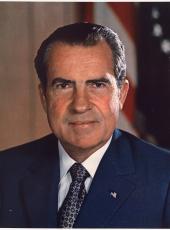 Exchange With Reporters at the Tombs of the Emperors of the Ming Dynasty
THE PRESIDENT. I have not had an opportunity, of course, to see this before. The only thing I think is comparable to it in the world is the Valley of Kings in Egypt. That is a very different time, of course, and a different country.
But when one sees these tombs, while this does not go back very far in China's history--its history goes back thousands of years rather than hundreds--it is again, of course, a reminder that they are very proud in terms of cultural development and the rest, a rich history of the Chinese people.
As I said earlier, it is worth coming 16,000 miles to see the Wall, and it is worth coming that far to see this, too.
Q. Will you be recommending that Americans apply for visas to have an opportunity to be tourists in China?
THE PRESIDENT. I won't comment on that question at this point. When we complete our meetings, we will see what kind of recommendations will be made in that respect. Certainly speaking in a general sense, I think it would be very valuable and worthwhile for Americans and, for that matter, people in all countries, to be able to visit China. It is a great and old civilization, these people who have given so much to the world in terms of culture and development in many ways.
It is important as we think of ourselves as members of the family of man, that we know them and know them better, and I would hope that in the future that my children, and their children as well, would have the opportunity to come here.
I would put it this way: That when we think of the world, most of us think of our own countries, some even our own States, and some just our cities. We should think of the whole world, and we have not known Asia well enough. And when you speak of Asia, the great country of China is a country we have not known long enough. That communication has been cut for the last 20 years, and in the future I would hope one of the developments that would occur as a result of our trip is that apart from the relations between governments, that people will be able to come here and that, of course, Chinese people would be able to come to the United States.
I don't mean to suggest that that exchange of people solves the problems of the world or problems between governments. But it so enriches the lives of people to know other civilizations and not to live simply on their own little island.
That is why this experience, I am sure, is not only an interesting experience for us but for the members of the press. I think it reminds us that all of us must work for an open world where people of different cultures, different philosophies, and so forth, may at least have an opportunity to know each other.
Note: The exchange began at approximately 1 p.m. following the President's tour of the Ming Tombs.
Richard Nixon, Exchange With Reporters at the Tombs of the Emperors of the Ming Dynasty Online by Gerhard Peters and John T. Woolley, The American Presidency Project https://www.presidency.ucsb.edu/node/255114