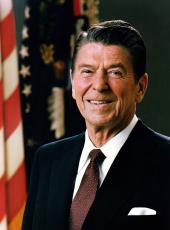 Exchange With Reporters on the Release of the American Hostages in Iran
The President. One of the last official acts the President [Jimmy Carter] did, and which I am privileged to implement, is to restring the tree [National Community Christmas Tree]. And even though the holiday is over, the Christmas lights are going to be turned on.
Q. When?
The President. Just as soon as the word can get to them, for this evening. It's evening already. I think it's dark enough. They could be turned on. They've been waiting for quite—
Q. How do you feel about that and the fact that they're coming home?
The President. Oh, more pleased than anything I can say. It just was needed to make the day perfect.
They've had the refueling in Athens, which should put them by now on their way to Algiers. And whether they try and start immediately for Germany or not, that I don't know. But they will switch to American planes in Algiers.
The President will be taking Air Force One, I believe early in the morning.
When we were watching the parade-well, at first, at lunch I learned that both planes had taken off and were in the air. And then I learned here, while we were watching the parade, that they had crossed the border and were out of Iranian airspace. And the next word I got, before the parade was over, was that they were refueling in Athens. The flight from there to Algiers is about 2 1/2 hours.
Note: At approximately 5:20 p.m., members of the press went to the Oval Office at the White House for a photo session with the President. The remarks printed above are excerpted from the White House transcript of the President's exchange with reporters during the photo session.
Ronald Reagan, Exchange With Reporters on the Release of the American Hostages in Iran Online by Gerhard Peters and John T. Woolley, The American Presidency Project https://www.presidency.ucsb.edu/node/247136