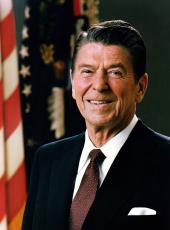 Exchange With Reporters on the Release by Syria of Navy Lieutenant Robert O. Goodman, Jr.
Q. Mr. President, does Goodman's release change anything?
The President. No. I was just going to make a statement on that.
All of us here are delighted, of course, and very happy that this has taken place. I have been in touch with and been talking with Reverend Jackson and our Ambassador there and with Lieutenant Goodman, who is, of course, pleased that he is coming home. And we, as I say, are very pleased with this. And now Ambassador Rumsfeld will be leaving this evening for Lebanon. And we will, with renewed spirit, continue our efforts and our negotiations to advance the cause of peace in Lebanon.
Q. Do you think this is a peace gesture on the part of the Syrian Government?
The President. I'm not going to place any interpretation on it. I just am pleased that this action was taken.
Q. How did Goodman sound to you, sir?

The President. Just fine—but then I expected that. In the conversation I had with his wife earlier, while he was still a prisoner, to keep her up to date on our own efforts in trying to bring about his release, she told me a little about her husband. And it was that she had great faith in his ability to meet the circumstances there and what he was undergoing. And it evidently is true.

He's a fine man.
Q. Did Reverend Jackson do a good job?
Q. [Laughing] Of course.

The President. You don't quarrel with success. [Laughter] Yes.
Q. Are you going to see the Reverend Jackson—

The President. Yes.
Q.—tomorrow?

The President. Yes. I'm looking forward to it.
Q. Here?

The President. Yes?
Q. Thank you.
Note: The exchange began at 10:51 a.m. in the Oval Office at the White House, where the President met with Ambassador Donald H. Rumsfeld, the President's Personal Representative in the Middle East, and Secretary of State George P. Shultz. Following that meeting, the President held a full session with his foreign policy advisers to discuss the Middle East situation.
Prior to the first meeting, the President spoke by telephone with the Rev. Jesse Jackson, Lieutenant Goodman, and U.S. Ambassador to Syria Robert P. Paganelli.
Ronald Reagan, Exchange With Reporters on the Release by Syria of Navy Lieutenant Robert O. Goodman, Jr. Online by Gerhard Peters and John T. Woolley, The American Presidency Project https://www.presidency.ucsb.edu/node/260525