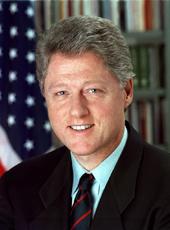 Exchange With Reporters Prior to a Meeting With the National Conference of State Legislatures
President Boris Yeltsin of Russia
Q. Mr. President, do you think Yeltsin's going to survive?
The President. I think that he is the duly elected President of Russia and a genuine democrat, small "d," and that he is leading a country that is trying bravely to do two things: one, escape from communism into market economics, a world they never lived in before; and second, to preserve real democracy. That's a tough job. It's pretty hard to do here. [Laughter]
I intend to do what I can to be supportive of that process and to be supportive of him while he serves as President of Russia. I don't know what else to tell you. I'm not a seer. I don't know what's going to happen to him or to me tomorrow. But I've got confidence in him. I'm going to work with him as long—
Attorney-General-Designate Janet Reno—
Q. What about Janet Reno?
The President. I'm elated by that. I had some Senators in the office, and I said, "That may be the only vote I carry 98 to 0 this year." But I enjoyed it. She's an extraordinary person, and I think she will do well.
We've got to go. Thank you.
Q. When is she going to be sworn in?
The President. When?
Q. When?
The President. Soon, I hope. I've been waiting for someone in the Justice Department for a while now.
NOTE: The exchange began at 4:15 p.m. in the State Dining Room at the White House.
William J. Clinton, Exchange With Reporters Prior to a Meeting With the National Conference of State Legislatures Online by Gerhard Peters and John T. Woolley, The American Presidency Project https://www.presidency.ucsb.edu/node/220381