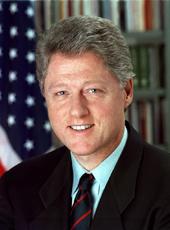 Exchange With Reporters Prior to Discussions With Prime Minister Ryutaro Hashimoto of Japan in Santa Monica, California
Trade Policy
Q. Mr. President, does it help or hurt matters if trade policy is a campaign issue this year?
The President. I think it should be an issue. I think it's important that the American people know all the facts and make their decisions. But let me reiterate what I said today, and let me begin by saying it's a great honor for me to welcome Prime Minister Hashimoto here to the United States. We know him well and respect and admire him for his work on trade on behalf of his country. And now this is his first trip here as Prime Minister. This will be a good opportunity for us to get better acquainted before I go to Japan on my state visit in April.
Let me also say that we have a broad and deep friendship with Japan which encompasses far more than trade. We have a security partnership that has enabled us to work together to head off the North Korea nuclear threat, something which was an immediate threat to the security of both the United States and Japan. And we have worked together on issues ranging from terrorism to drug trafficking to global environmental problems.
Now, on the trade issue let me say as I have said many times, I don't mind if this is an issue in the election, but it's important that we look at the facts and the real policy alternatives. To hear the debate you would think the only choice is an open market without regard to how other countries treat our products on the one hand, or a totally closed market on the other. There is another alternative which is trade that is both freer and fairer, and that is the policy we have pursued.
With Japan, thanks to Prime Minister Hashimoto in his previous position, we have concluded 20 trade agreements. And in those areas, our trade with Japan has gone up 80 percent in just 3 years in ways that have enabled us to lower the trade deficit and to provide a broader range of products and services to Japanese citizens, sometimes at lower cost. So this has benefited both of us. There are 167,000 more Americans working today because of those 20 trade agreements and the good-faith effort that has been made in Japan to keep them. And in general, American exports are now growing faster than American imports for the first time in many years.
So I think we should all remember that this trade is a two-way street. When we raise barriers to others, they can also raise barriers to us. The goal should be freer trade and fairer trade, and that is one but only one part of our relationship.
This is good for America. And here in California it's certainly good. You were with me today, all of you, at the McDonnell Douglas plant where they were celebrating, among other things, the sales of their planes to Saudi Arabia.
Q. Is it possible to resolve trade differences without confrontation in the future?
The President. The answer to that I think depends, frankly, on how well all of us can make the new World Trade Organization work. The real problem with international trade dispute resolution in the past has been that it took so long, by the time you got an answer it almost didn't matter what the answer was.
So that's why the United States and Japan and other countries have held back the right to make some unilateral decisions in the trade area. But I think all of us would rather take this out of confrontation and have these matters fairly resolved. And the real question I think is going to be whether the WTO can move not only fairly but quickly.
Japan-U.S. Relations
Q. Mr. Prime Minister, Mr. Buchanan has said that you will be more scared of him as President than of President Clinton. What do you think of that? And Mr. President, your own assessment?
Prime Minister Hashimoto. Concerning the election, that's a decision the American people have to make. We learn from the United States how important the free trading system is, and also we are promoting further the free trade principles. And also, we're making concrete actions for the elimination of regulation—or deregulation that are necessary for the goal of free trade. So I'm confident that the American people will make good decisions.
I'm not taking any side, I must say.
The President. Let me say, I would hope that the Japanese Prime Minister would never be afraid of any American President. We have a partnership.
You know, let's just remember, when I became President the newspapers in America were full of the threat of North Korea becoming a nuclear power and posing dangers to Japan, to the United States, everyone. Because we worked with Japan and with South Korea and with other countries, that threat is ebbing away. The Japanese play host today to over 40,000 American soldiers that have helped to keep the peace in the Asian-Pacific region, and they pay a higher percentage of the cost of maintaining those military installations than any other nation in the world where we have soldiers deployed. Our relationship should be one of respect and friendship, even when we have different opinions and different interests. It is not based on fear. It is based on respect and friendship.
Now, we've had trade disputes. All I ask you to do is to look at the record that we have established: 20 agreements, an 80 percent increase in American exports under those agreements, from auto parts to medical equipment to telecommunications equipment to California rice.
There have been problems. We have taken these issues seriously, far more seriously than previous American administrations. But we have not attempted to approach them in an atmosphere that was based on fear or anger or rancor. We can be firm with each other, strong with each other; we can even disagree with each other. But the American people should know that our friendship and partnership with the Japanese in security matters is an important part of maintaining freedom and peace in the world and helps America. And Japan has lowered its trade deficit with America—or, our trade deficit with them—dramatically in the last 3 years. We are moving in the right direction. Other countries should do as well.
Japanese Whaling
Q. Any hope for progress on whaling? Is there any hope for progress on the issue of whaling that's separating the two?
Prime Minister Hashimoto. Shall we finish the meeting right out here? [Laughter]
The President. We just started—[laughter]— we haven't started.
Thank you very much.
NOTE: The exchange began at 7 p.m. in the garden at the Sheraton Miramar Hotel. A tape was not available for verification of the content of this exchange.
William J. Clinton, Exchange With Reporters Prior to Discussions With Prime Minister Ryutaro Hashimoto of Japan in Santa Monica, California Online by Gerhard Peters and John T. Woolley, The American Presidency Project https://www.presidency.ucsb.edu/node/222088