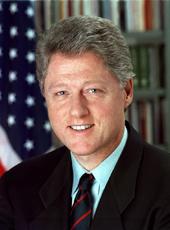 Exchange With Reporters Prior to Discussions With President Leonid Kravchuk of Ukraine
Q. Mr. President, do you think Mr. Nussbaum should resign?
The President. I'm here with President Kravchuk to discuss a lot of very important issues. I have nothing to add to what I said yesterday. If I have anything else to say, it will be later today. I have nothing to say.
Q. ——they'll follow through on the dismantling of the nuclear warheads?
The President. Yes, I think they will do exactly what they said they'd do. President Kravchuk has had a good deal of success working with his Rada to secure approval of a continued denuclearization of Ukraine, and we will have some things to discuss about that today and some further announcements at our public statement in a couple of hours—we'll have some more to say about it.
Q. [Inaudible]—sign the Non-Proliferation Treaty, Mr. President?
The President. I hope they will, and I think they're working toward that.
[At this point, one group of reporters left the room, and another group entered.]
The President. This is the Ukraine press.
[At this point, a question was asked in Ukrainian, and a translation was not provided.]
President Kravchuk. We're just recalling our meetings, but we haven't started talks yet. But we recalled our Kiev meetings.
Q. What is the opinion of this meeting, Mr. Clinton?
The President. I thought they were very good meetings. We made, as you know, a very important agreement which we then signed in Moscow the next day. And I also very much enjoyed being in your country a brief time. We also had a wonderful meal. And we'll have a good meal today, but there won't be so many courses as there were when we were in—[laughter]
President Kravchuk. And the newspapers were covering it for a long time.
The President. Yes.
NOTE: The exchange began at 11:42 a.m. in the Oval Office at the White House. President Kravchuk spoke in Ukrainian, and his remarks were translated by an interpreter. A tape was not available for verification of the content of this exchange.
William J. Clinton, Exchange With Reporters Prior to Discussions With President Leonid Kravchuk of Ukraine Online by Gerhard Peters and John T. Woolley, The American Presidency Project https://www.presidency.ucsb.edu/node/219019