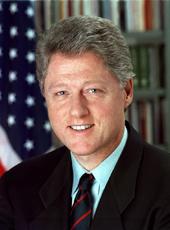 Exchange With Reporters Prior to Discussions With President Ernesto Zedillo of Mexico
Mexican Economy
Q. President Clinton, do you want to say something about the Mexican economy? How do you see the development of the last 5 1/2 years under President Zedillo?
President Clinton. I think President Zedillo has done a truly remarkable job. Mexico has had 5 years of growth, in excess of 5 percent a year, after the very difficult financial crisis in '94. And I think it's a real tribute to him and to the people he put on his team, as well as to the hard work and industry of the people of Mexico.
But I hope the partnership that we have enjoyed together after NAFTA and through the crisis has played some role. But I think the great credit goes to the President and his team and the people of Mexico.
Mexican Election
Q. What do you think about the Mexican election?
President Clinton. I think the Mexican people will vote and make their own decision. It's interesting to observe. It's just like this election. I'm just an observer now. I'm not running for anything.
[At this point, a question was asked and answered in Spanish, and a translation was not provided.]
Organization of American States
Q. [Inaudible]—just failed to get the support of the Latin American countries to get the OAS as a mediator in Peru. What do you think could be the role of the OAS supervising elections in Latin America without the support of key countries like Mexico?
President Clinton. Well, I think the real question that we all have to come to terms with is, what is the right thing to do now? And that's what we've been discussing. But over the long run, I think that the OAS still has a good future and a critical future. And I don't think there's any difference between the United States and Mexico in our determination to do whatever we can to keep democracy strong throughout the region.
And so we talked about it today, and it's a difficult problem. But I think the trend is good. You can't look back on the last 20 years and not believe that. And so we'll need some mechanism to monitor these elections and to be involved in an ongoing basis, and I think the OAS still has a pretty good future.
Thank you.
NOTE: The exchange began at 2:45 p.m. in the Rose Garden at the White House.
William J. Clinton, Exchange With Reporters Prior to Discussions With President Ernesto Zedillo of Mexico Online by Gerhard Peters and John T. Woolley, The American Presidency Project https://www.presidency.ucsb.edu/node/228356