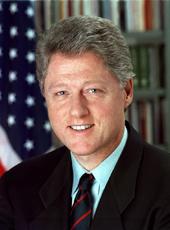 Exchange With Reporters Prior to Discussions With President Alija Izetbegovic of Bosnia-Herzegovina at Tuzla Airfield
President's Visit
Q. Mr. Izetbegovic, can you tell us what it means for the President of the United States to be here in Bosnia?
President Izetbegovic. In President Clinton we see a great friend to Bosnia-Herzegovina. We wish him here a warm welcome. And of course, we see the opportunity that we have discussions on several important issues, issues relating to IFOR forces and especially the United States of America in Bosnia-Herzegovina.
Q. Mr. President, was it worth all the effort to make the logistical nightmare of making this visit?
President Clinton. Absolutely. First of all, the most important thing for me was to come and see our troops and to tell them that I support them, the American people support them, and we appreciate what they're doing here, and to get a briefing about what's going well and what still needs work.
And the opportunity to meet with President Izetbegovic and the other members of his government I think is quite important because we still have a lot of work to do. And quite over and above the IFOR obligation, we've got a lot of work to do to rebuild Bosnia economically. And I want to do what I can to aid that.
And of course, I've got Mr. Bob Gallucci, one of our most able diplomats; he helped to unravel our problem, our North Korea problem. So I figured if he did that, he could certainly figure out how we're going to help Bosnia get back on its feet, going in the direction that we ought to be going.
So we've got a lot to talk about, and I'm looking forward to it.
NOTE: The President spoke at 3:55 p.m. in the Old Command Post. In his remarks, he referred to Ambassador at Large Robert Gallucci. A tape was not available for verification of the content of this exchange.
William J. Clinton, Exchange With Reporters Prior to Discussions With President Alija Izetbegovic of Bosnia-Herzegovina at Tuzla Airfield Online by Gerhard Peters and John T. Woolley, The American Presidency Project https://www.presidency.ucsb.edu/node/222790