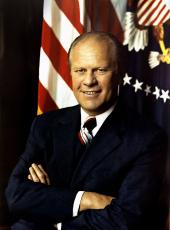 Exchange With Reporters in Jackson, Mississippi.
WE HAD a wonderful day and, I think, a very successful one.
REPORTER. Do you think you have got the Mississippi delegation now in your chest pocket, Mr. President?
THE PRESIDENT. I would never categorize my visit in those terms. We had a good day, very successful, a warm welcome. It could not have been better.
Q. Mr. President, do you have to have the Mississippi 30 delegates to get the nomination, sir?
THE PRESIDENT. We had more than 1,130 10 days ago. We are very, very optimistic about additional votes in the Mississippi delegation. We have more delegates today than we had 10 days ago.
Q. Why did you find it necessary to come here, sir, then?
THE PRESIDENT. I like the people of Mississippi.
Q. Mr. Ford, you are going to poll all the delegates around the Nation as far

as getting their input as far as the Vice-Presidential choice is concerned.
THE PRESIDENT. Yes.
Q. If that choice turns out to be the unanimous decision of the people to be, say, John Connally, are you going to go along with that?
THE PRESIDENT. I am going to poll all of the delegates, all of the alternates, asking them to give me their recommendations in a list of priorities. I will also ask the Members of the House and the Senate on the Republican side of the aisle. I will also ask the Republican National Committee and other outstanding Republicans, and their recommendations to me will be very significant in the choice that I make. I want to get as much an input, as broad a cross section as I possibly can. I think that is the right way to do it, and I certainly will be guided substantially by their recommendations.
Q. There has been some criticism of you, Mr. Ford, concerning your veto of certain programs dealing with social programs, school lunch measures, what have you. Do you think that is warranted criticism, that you are not attuned to the poor in this country?
THE PRESIDENT. Not at all, because if you look at the budget I recommended, in almost every category I recommended more money for education, more money for health, more money for many of the social programs than had been previously recommended or approved. It is just that you can do just so much. And it was a sound recommendation, and I fully stand by it.
Q. Mr. President, how many delegates did you meet with individually in the hotel room?
THE PRESIDENT. I met with the whole delegation. I did not meet with any individual delegates except some of the leaders in the Mississippi delegation.
Q. What did they say?
THE PRESIDENT. It looked good.
Note: The exchange began at 6:50 p.m. at the Allen C. Thompson Field.
Gerald R. Ford, Exchange With Reporters in Jackson, Mississippi. Online by Gerhard Peters and John T. Woolley, The American Presidency Project https://www.presidency.ucsb.edu/node/242285