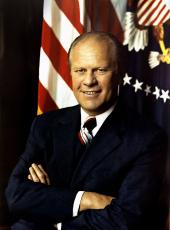 Exchange With Reporters on Arrival at St. Louis, Missouri.
[A reporter asked the President i/ he was wearing a bulletproof vest. The President responded as follows: ]
THE PRESIDENT. The security precautions that are taken, it seems to me that that is something that should not be disclosed.
REPORTER. Do you have any reflections a week after that incident in Sacramento? Did you think about it?
THE PRESIDENT. First, I am very grateful for the fine action taken by the Secret Service, that I was not--I really have not had time to think about it.
Q. Those House documents 1 --how serious a matter is that?
THE PRESIDENT. Which ones are you referring to?
1 The Select Committee on Intelligence, chaired by Representative Otis G. Pike of New York, had released a report entitled "The Performance of the Intelligence Community Before the Arab-Israeli War of October 1973" which quoted documents supplied by the White House.
Q. The ones that you have asked the House to obtain, the House committee. THE PRESIDENT. What we did there was to give these documents to a House committee on the basis that they would abide by an agreement as to what would be released and what would not. Unfortunately, the committee took action that did not coincide with the agreement that we had with the committee. And as long as we feel that we had a good faith agreement and it was breached, then I think that we have proper action in requesting a return.
Q. Will Governor Reagan be acceptable as a running mate?
THE PRESIDENT. We are all in the Republican Party, and that will be a decision made by the convention.
Q. One question, Mr. President. Your policy on decontrol of oil prices has caused much concern among area service station dealers, and in fact, they are afraid big oil is going to run them out of business and are going to picket today.
THE PRESIDENT. Not under my plan would that happen. We have requested the Congress that if there was decontrol, that the Congress pass legislation which protects the independent dealer as we have requested legislation to protect the small independent refiner.
The Congress has an obligation to pass such legislation, and in the meantime, we are working with the various majors to have them in good faith continue their working relationship that they have with small dealers, and I think they will.

REPORTER. Thank you, sir.
Note: The President spoke at 12:32 p.m. at Lambert Field.
Gerald R. Ford, Exchange With Reporters on Arrival at St. Louis, Missouri. Online by Gerhard Peters and John T. Woolley, The American Presidency Project https://www.presidency.ucsb.edu/node/257328