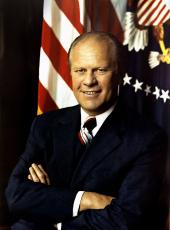 Exchange With Reporters on Arrival at Memphis, Tennessee.
IT IS just great to be in Memphis. We had a very fine stop in Johnson City. Naturally, I wish I could have visited Chattanooga and Knoxville and Nashville, but I do have a responsibility to be President as well as campaign. We love Tennesseans, and we will do the best we can by stopping where we have. I want all of you to know that I am deeply grateful for the leadership of Governor Dunn, of Senator Howard Baker, of Bill Brock, and the other congressional members. I am very, very grateful for their help and assistance.
Let me say that I am optimistic about our opportunities here in Tennessee. The warm welcome in Johnson City was very encouraging. We, of course, think we have a record that would justify the support. And that record is predicated upon 21 months of success in keeping the peace and building the blocks for the peace in the future and for the prosperity which is now surging from the troubles we have had over the last year, year and a half.
We are on our way to, I think, a permanent and constructive prosperity with employment going up and with unemployment going down. As a matter of fact, everything that is supposed to be going up is going up, and everything that is going down is supposed to be going down.
But as we take a look at some of the other things, when [ became President the trust of the American people in their government was at a pretty low ebb. We have restored that confidence by frankness, forthrightness, integrity. So, when you look at the three key programs that I have carried out--peace, prosperity, and trust--it's my feeling is that the American people want that for the next 4 years.

I'll be glad to answer some questions.
REPORTER. Mr. President, what do you think about your chances here in the Tennessee primary?
THE PRESIDENT. I am optimistic. I think it will be close, but I'm optimistic.
Q. Do you think that Ronald Reagan's statement that he feels you will lose in your home State of Michigan and therefore you declare defeat
THE PRESIDENT. Well, I think we will win, and win well in Michigan.
Q. President Ford, how come you haven't defended your foreign policy more strongly in the wake of Ronald Reagan's criticism of it?
THE PRESIDENT. I think I have defended the good foreign policy very energetically and with great feeling because it is a foreign policy that achieved the peace and a foreign policy that is keeping the peace, and it is a foreign policy that will maintain the peace in the future. It's a good foreign policy. It's been a successful one.
Q. Mr. President, your delay in signing the threshold nuclear test ban treaty has been interpreted in Moscow as a snub. Was that intentional?
THE PRESIDENT. Not at all. It was just one of the practical problems that we faced with the heavy job of being President and the heavy job of campaigning.
Q. Mr. President, do you expect Senator Brock to endorse you?
THE PRESIDENT. I know Bill Brock is a very good friend of mine. And we have a great deal in common. I will leave that up to Bill Brock.
Q. Sir, concerning that delay of the nuclear test ban project, there are those who were saying that you were concerned about signing it now because anything you sign with the Russians will go down to your discredit in the campaign. Did politics play any part?
THE PRESIDENT. Not at all. I am very proud of that nuclear test ban agreement because for the first time, through very sound and, I think strong negotiating, I obtained for the United States the first opportunity to have on-site inspection in the Soviet Union. This is a breakthrough that five or six Presidents before me have sought to obtain, but because we were firm, because we had good relations, I was able to obtain an on-site inspection agreement with the Soviet Union in the nuclear field. I'm very proud of it, and I think it's good for us and it's good for all of mankind.
Q. Mr. President, do you feel that you and Mr. Reagan might wipe each other out and that another candidate might get the nomination for the party off of the Democrats?
THE PRESIDENT. No, I expect to win in Kansas City.

Thank you very much.

REPORTER. Thank you, Mr. President.
Note: The exchange began at 12:01 p.m. at the Memphis International Airport. In his remarks, the President referred to Governor Bryant Winfield Dunn of Tennessee 1971-75.
Gerald R. Ford, Exchange With Reporters on Arrival at Memphis, Tennessee. Online by Gerhard Peters and John T. Woolley, The American Presidency Project https://www.presidency.ucsb.edu/node/258313